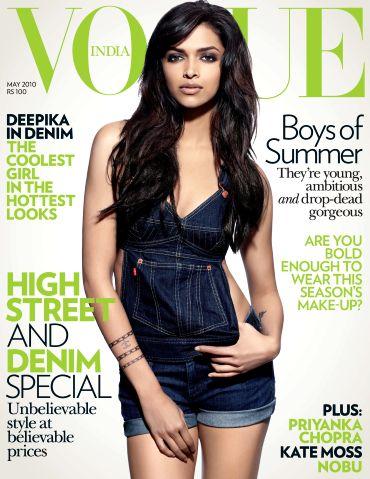 Here's a first look at the always-sexy Deepika Padukone gracing the latest edition of Vogue magazine.
To celebrate summer in style, glamour mag Vogue has come out with a 'stylish High Street and Denim special' issue for the month of May.
And striking a sultry pose in a denim romper is the lovely Deepika Padukone, photographed by ace lensman Atul Kasbekar. Here's a quick fashion take from her interview:
On her personal style: My style has been evolving and I am experimenting with new silhouettes. Overall, though, I just believe in being well-turned-out at all times.
Fashion obsession: Anklets and ripped jeans
Favourite shopping haunts: Anywhere in London -- Topshop, D&G, Harvey Nichols, Selfridges
Oldest items in her closet: Pyjamas, tracks and tees -- she can't wait to get into them every night!
On the look in her upcoming film Housefull: It's super-stylish. The London look is shorts and blouses, but with an English influence -- puffed sleeves, lace and simple accessories. The Italian look is sexier -- bikini tops and shorts with mulmul tops.
Physically fit Deepika: Physically, Deepika is in a fantastic place. The former athlete's body is leaner than ever, something that she attributes to religious workouts. She has a post break-up glow -- joining the ranks of Jennifer Aniston, Anne Hathway and Charlize Theron who, post front-page break-ups, have perfected that sweetest revenge -- looking better than ever.