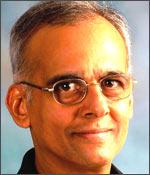 Andrologist and microsurgeon Dr Sudhakar Krishnamurti will be responding to rediff readers' sexual queries on a regular basis.
We invited Get Ahead readers to mail in their questions. Here is the next set of responses:
---
Hi,
I am a married 32-year-old and my wife's age is 21. I am not interested in having sex with her, I am always thinking about our age gap. Please advice me?
Thanking you,
Das
It's hard to understand the basis for why you feel the way you feel. Generally speaking, the male of the human race is more attracted to younger than to older women, and some old men are having sex with women young enough to be their granddaughters. If this is how you feel about the 'age difference', you shouldn't have married your wife in the first place. It is certainly no fault of hers that you are in this situation, and she has a right to a satisfactory sex life too; which is presently being denied to her.
It appears that yours is an 'arranged' marriage, that you have probably not chosen your bride yourself, and have been unable to say 'no' to your parents' choice of mate. It is possible that, deep inside, sexual diffidence is the main cause of your 'problem'. You (along with your wife) must discuss the matter with a sexual health expert. You may even require an andrology test or two. You'd better move fast because, soon, people will start asking your wife why she is not already pregnant, as is usual in India.
---
Sir,
I read an article published today on rediff; I have some queries, please explain and reply to my mail.
I am a 50-year-old married from India and have three children. At a very young age I started masterbutaion and it turned later on to homosexuality. Though I am married and have children, I am not very keen to have sex with my wife as compared to a male partner.
The second thing is that when I have sex, even with a male, my semen comes out very early. Please advice how to be sincere with my wife as well as have the semen take time to come out. Waiting for your reply,
Regards,
Manohar Lal
In conservative societies homosexuality is often repressed and even the 'afflicted' individual lives in denial (does not admit it to himself) and ignorance of the alternative orientation. Sometimes, there is no opportunity to discover this until a partner comes along, like in your case.
Having discovered this now, you are going to find it difficult to swing both ways. It's a tough call, and nobody can really help you but yourself. You'll have to weigh many factors before you come to a decision on how you want to reconcile your homosexuality with your marital duties. One option that you may want to try is to engage in a homosexual fantasy while making love to your wife, though, morally speaking, this may be wrong. The matter of your premature ejaculation has been dealt with exhaustively in these columns, and has also been covered in many chapters in my book, Sexx is Not a Four-Letter Word (www.sinaflw.com), which is easily available online through the Rediff bookstore.
---
Sir,
I don't have proper facial hair growth. I am 25. I feel extremely worried due to this. Please help me find a way out of this problem.
At age 25, you certainly ought to be worrying about your problem, even though this may not necessarily be serious. Some men have normal secondary sexual development in every other way, but body hair is sparse. In others with scanty facial hair, the sexual development itself might be abnormal and will require to be addressed.
---
Dear Sir:
Hello! I am interested to know about MULTIPLE ORGASM. PLEASE LET ME KNOW IS IT POSSIBLE FOR BOTH TO ATTAIN MULTIPLE? Please suggest any best book available.
Thanks,
Om
It is known that women can attain multiple orgasms. With men, this is exceptional, and most obtain only one that's synchronous with the ejaculation. The next orgasm is then obtained during the next ejaculation, which occurs after the next erection which, in turn, occurs after the refractory period. For more on this, I refer you to this bibliography -- http://en.wikipedia.org/wiki/Orgasm#Multiple_orgasms
---
Dr Sudhakar Krishnamurti is an international award-winning andrologist and microsurgeon. He is the only Indian on the world's first-ever batch of sexual medicine fellows (Oxford, 2007). Best known for the Krishnamurti Operation for Peyronie's Disease, he is also the founder of Andromeda, India's first andrology center, and author of the book Sexx is Not a Four-Letter Word. Click here to purchase the book from rediff Shopping.
Disclaimer: Please note that Dr Krishnamurti will be answering the most relevant queries at his discretion each week. His advice may not necessarily reflect the opinions of rediff.com and while it is in the capacity of professional medical counselling, it in no way should be considered an alternative to visiting a medical specialist for sex-related ailments.