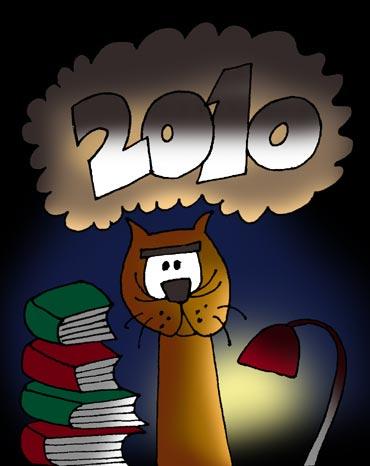 As preparation for CAT 2010 for admission to India's top B-schools gathers steam, we invited readers who have taken the CAT in previous years to share their experiences and advice with this year's test-takers. Here Alok Chandra, an IIM Lucknow student, shares his advice...
What is that single motivating factor that will keep you going for the next three months? What is that one thing you really love doing? What is that one dream you want to fulfil?
The journey is ill-begun till the answers are found.
De-clutter your mind, spend time with yourself, introspect, do whatever you need to but find out if an MBA degree is the answer to these questions. You might find it an exercise in futility in the beginning but take my word for it, this is where the battle is won or lost. The clarity of your goal is the single most differentiating factor.
Once you have your answers, your journey has truly begun. Now you must embark on this journey with belief in your heart. If you believe you can, you will. The preparation will be demanding but if you take care of the following aspects, your job will be a lot easier.
Discipline
The journey warrants single-mindedness of purpose and self-discipline. Talent alone cannot take you there. You need to back it up with devoted effort. Chalk out a plan and stick to it. Whether you study in the nights or slog the days out is immaterial as long as you do it consistently.
Speed or accuracy?
I would say you are the best judge. Throughout I aimed to attempt only 80 per cent of the questions. That meant I could devote more time per question and expect high accuracy. Your preparation will give you a fair idea of what suits you the best. Evolve your own strategy and fine tune it over time.
Analyse
There is no alternative to it. For every minute you spend on taking a test, spend at least twice as much analysing it. Analyse each and every question even if you got it right. Think of an easier alternative. Mark the sections you are good at. Identify the areas you need to put in more effort. Keep hammering your weaknesses and building on your strengths.
Join a coaching institute/ study group
Joining an institute or a study group really helps. First it gives you a taste of what the competition is going to be like. Second, it keeps you on your toes. As a working professional, coaching institutes really helped me focus after the gruelling office work.
Tackle distractions/ failures
It is easy to get distracted and lose focus. There will be days you feel completely flustered. You will be pained to see your efforts not fructifying. This is where 70 per cent give up in utter disillusionment. If you can get through this phase by putting in more effort and ironing out your weak points, you deserve your claim to an IIM seat. Dreaming about the life ahead helped me get my focus back.
On CAT day
Relax before the big day. Do not strain yourself thinking of what might go wrong. Talk to someone who would soothe your nerves. Go and watch a movie. But do not to lose focus.
CAT has had the reputation of springing surprises. So while it is good to start with a strategy in mind, remain alert to the situation and revise your strategy if need be. Do not be put off if the questions seem tough. Remember if it is tough for you, it's tough for everyone. In fact tough questions actually make competition easier.
Give the CAT your best effort. Savour this journey and remain honest with your preparations and you will definitely script your own destiny.
Did you crack the CAT recently? What was the experience like? How did you begin your preparation and how did you plan your CAT strategy? Which are the most important study topics? What are the common problem areas that test-takers face and how did you approach them?
Simply e-mail us your CAT tips and advice at getahead@rediff.co.in with the subject 'My CAT tips' and we will publish the best right here!
Illustration: Uttam Ghosh