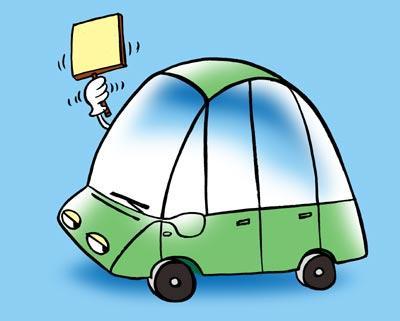 Got any funny stories to share from when you were learning driving? Tell us about them! Illustration: Uttam Ghosh
This year marks a century since the first-ever driving lesson was imparted in England, back in 1910.
With the foresight of a true businessman, south Londoner Stanley Roberts determined that teaching people how to drive would be an instant success and set up the British School of Motoring in his parents' garage 100 years ago.
His vision only grew with time and today, BSM is the largest driving school in the country, having tutored personalities like the Queen and supermodel Twiggy.
Now you may be the Queen of England, but you're still very likely get into a couple of minor scrapes when learning to manouvre an automobile.
And while Her Majesty may not be inclined to share any funny story to that effect, you certainly can!
Tell us about the time you gave your instructor palpitations by switching into reverse instead of first gear, or the time you added on to your brother's L-plate at the back of the car to spell 'Loser'.
Remember, we want amusing anecdotes, so if you ran over a dog, we don't want to hear about it!
Send in your driving lesson experiences to us, along with a photograph, if possible to getahead@rediff.co.in (subject line: 'My driving lesson') and we'll publish the most interesting, witty accounts right here on rediff.com