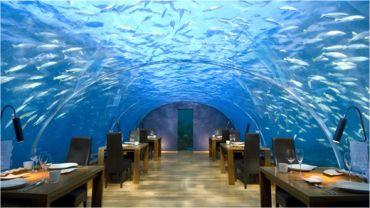 Ever wondered what it would be like to live in the ocean? Now you can find out, provided you're prepared to shell out big bucks for it!
A new honeymoon suite in the Maldives offers a breathtaking view of marine life -- be it day or night.
Conrad Hotels is offering a breathtaking suite at their Maldives Rangali Island resort, but it is likely to eat up the entire average wedding budget, let alone the honeymoon accommodation costs.
Normally the hotel's 'Ithaa' restaurant, the domed 'reverse aquarium' is being converted into a special submerged bedroom in honour of the hotel's fifth anniversary, reports the Daily Mail.
And the morning-after champagne is on the house, as is the view of blue-striped snapper, sting rays, parrot fish and moray eels that reside in the Indian Ocean.
The Ithaa wedding experience is not listed on the Conrad Hotels' website, and potential guests are advised to personally request the room at least 14 days in advance.
Photograph: Conradhotels1.Hilton.com