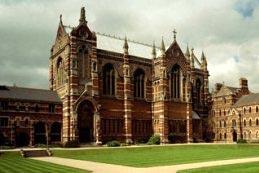 I was looking for a course that could provide an international perspective on conflict resolution and development," recalls 2008 Felix alumnus Priyashree Andley, who completed her MSc in Violence, Conflict and Development, from SOAS (School of African and Oriental studies, University of London).
Prior to this, Priyashree had an enriching experience, interacting with refugees at the border villages while working as a research officer for the Delhi-based Institute of Peace and Conflict Studies. Wanting to explore more in her area of interest she turned to Felix scholarship, which allowed her to specialise in the role of local and international actors (NGOs, corporate and states) in 'war zones' in Asia and Africa that have high levels of poverty.
The UK is an apt destination, which can give a global edge to your career prospects. The country has some of the world's most recognised universities.
 
Study at partner universities
Felix scholarships are for those who want to pursue Master's and research in a variety of subjects, incuding humanities, science and development studies. Felix Scholarship 2010, offers six scholarships each at University of Oxford, University of Reading and SOAS, for Master's courses (MSc, MA AgrSc, MA, LLM, etc), MPhil and doctoral programmes (PhD/DPhil). The best part about education in the UK is that it can save you time, as some of the Master's courses can be completed in just one year.
Each of the universities offers a wide array of courses. Here institutes use a variety of teaching and assessment methods to encourage independence and mastery over the subject. Felix gives freedom to opt for a course of one's own choice in the desired university, something which sets it apart from the other scholarship programmes.
The scholarship is sponsored by an anonymous donor and was initiated in 1991. India is the principal beneficiary of the scholarship, with the country scoring over the other countries. The objective of the scheme is to expose students to academic study, cultures, experiences and friendships, which will enable them to develop their skills and vision, and contribute back to their country of origin in a big way.
Are you eligible?
An applicant must graduate with a first class Bachelor's degree from a recognised Indian university. It intends to provide a unique educational opportunity abroad on the basis of academic merit and financial need.
How to apply
Applicants can directly approach desired universities to avail of scholarships for the course they wish to study.
Applicants must apply to only one of the three universities.
You may also need to nominate referees who can vouch for your academic ability and your ability to sustain your interest in the programme.
There's been a change in the application procedure. Except for Oxford, candidates have to fill out a separate form to apply for Felix scholarships.
What next after applying
If you meet the admission requirement, then you receive an 'offer letter' from the university that you have applied to. The shortlisted candidates are then invited for interview in India, usually between April and June .
 
Facing the panel
A personal interview to assess your personality, understanding of your academic history including chosen field of study, financial need and suitability for the scholarship, is the final step. "I was asked questions such as 'what do you know about conflict management?' They are looking for a perspective rather than bookish, theory-based explanations," advises Priyashree. The interviewer also ensures that the candidate has a good command of both spoken and written English.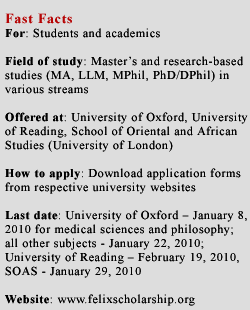 Full funding!
This scholarship is a huge relief for those looking for full funding, as it covers all expenses, right from academic fee, international fare, living costs inclusive of clothing and entertainment, books, communication (phone bills, broadband), stationary, special course equipment, local transport, etc.
"In addition to my academic fee, I used to get 630 pounds every month for personal expenses. Felix is an extremely generous scholarship, and supported me to such an extent that I did not call up my parents for a single penny," shares Surabhi Sarkar, another Felix alumnus who pursued an MSc in Development Studies from SOAS.
 
On campus
"The method of teaching at SOAS encouraged me to think about issues (related to conflict and development) from a different perspective. I developed my own views and a deeper understanding of the complexity of development and peace-building. The course was intellectually stimulating in many ways," says Priyashree.
Her sentiment is echoed by Surabhi, "I got an opportunity to live with students from diverse cultural backgrounds. In the classrooms, name any country and you will have students from there. The engagement with the international students widened my horizon and also stimulated me to think in an open-minded fashion."
Photograph: felixscholarship.org