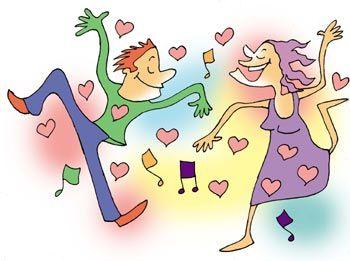 Play a Valentine's song for your partner on rediff SongBuzz and add on a romantic message too! Illustration: Uttam Ghosh
If music be the food of love, play on...
We agree wholeheartedly with Shakespeare, which is why this Valentine's Day, we invite you to dedicate a song to your loved one right here on rediff.com; you do the dedicating, we'll do the playing!
Feel too overwhelmed to say what you're feeling? Let music do it for you.
Have a special number that means something to the two of you? Your song? Play it right here as a VDay gesture.
And we're not just talking about romantic relationships -- after all, Valentine's is meant to celebrate all kinds of love! So you can dedicate a song to your parents, siblings, grandmother -- anyone under the sun that you feel affection for.
Here's how you can go about it:
1. Simply log onto Rediff SongBuzz -- sign in using your rediffmail ID or sign up with any other e-mail ID.
2. Invite your loved ones to be-friend you on SongBuzz using the 'Invite your friends' link.
3. Use the 'Search' box at the top of the page to find songs and click on 'Stream' to listen.
4. An option to 'Add a message' appears before the song streams. Type in your message to your loved one here, so everyone knows who it's for!
In addition to streaming songs, you can create your own playlist under 'My Stream', see what other people are listening to under 'World Stream' and even 'Follow' other users to hear the same music they're listening to.
So what are you waiting for? Log on today and send across a gift of love that costs you absolutely nothing at all!