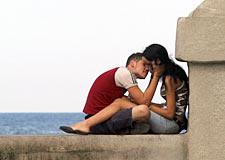 There is never a foolproof method when it comes to finding love, but here are a few tips and suggestions that can help you open up avenues of meeting The One. Insiyah Vahanvaty reports. Photograph: Enrique de la Osa/Reuters
The wedding season can be really rough on singles, acting as a not-so-subtle reminder of their single status. And then, no sooner have the weddings slowed down, than Valentine's Day is upon us, with its candy hearts and red roses threatening to drown us in mush. Weddings are hard enough, with numerous aunties subtly asking us about our 'future plans', but Valentine's Day with its popcorn-and-candy feel is just the cherry on top!
Add to that the fact that most young people these days want to choose their own partners, instead of having friendly neighbourhood ladies arranging a match.
"After all, you need to be in love to get married to someone. You can't marry someone you barely know and then assume that love will follow. What if it doesn't? This method may have worked for our parents, but I don't think it would have worked for me," vehemently remarks Sakshi Talwar, a 27-year-old software executive.
But where does one go to find love? As we grow older and hopefully wiser, we realise how hard it is to find love -- to find someone special, with whom we can imagine spending our whole lives.
So this Valentine's Day, we're going to try and help you out. Of course, there is never a foolproof method when it comes to these things, but here are a few tips and suggestions that can help you open up avenues of meeting someone and hopefully, finding love.
Let word out that you're looking for a relationship
Your friends are your best bet at finding love. They know you best, and are probably well aware of what kind of person you'll click with. Ask them to set you up with their single friends. Once people know their efforts won't be wasted, you'll be surprised at how many will be happy to match-make. And that way, your potential Significant Other comes with a reference!
Mingle, mingle and then mingle some more
You're not going to find a relationship if you spend all your free time sitting in front of the idiot box at home. Go out, meet people, attend parties and have a good time. You never know who you might meet, and where you might get lucky.
Says Sakshi, "I met my husband for the first time at a friend's party. Since I was quite the party animal, I used to meet tons of random people, never imagining that I might someday end up with one of them...which is probably why it took me three years to notice the man I'm now married to!"
Try the Internet
You've used it for research, to pay your bills and to find jobs. You might as well try it to find love too. Register yourself on an online dating site, and start networking with other singles. You just might get really lucky and find your Mr/Miss Right without even getting off your chair!
Of course, make sure you use legitimate matrimonial portals, not seedy chatrooms where the 25-year-old doe-eyed beauty you think you're flirting with may actually be a 51-year-old balding man just getting his jollies by taking you for a ride.
Stay on the lookout
There is no formula for finding love, so you need to keep an eye out in even the unlikeliest of places. Mr/Miss Right could be standing in line for movie tickets behind you, or sitting at the next table at the cafe you visit every Sunday evening. Sonali Bhatt*, a 25-year-old housewife, found love in the most unexpected of places -- on a train! "I was on my way to Delhi from Bangalore, and so was he. We were in the same compartment, and got talking over the long journey. I had a great time chatting with him -- he was funny, entertaining and seemed nice. So when he asked me for my number, I was glad. Two years later, we were married!"
Find people with common interests
Birds of a feather flock together -- so go to places where you're likely to meet like-minded people.
Love music? Learn to play an instrument. The classes will add something to your life, and you'll get to meet people who feel for it as much as you do.
Curious about a foreign language? Sign up for a beginner's class now.
Fitness freak? Join a gym and make friends there.
Exploit the full potential of social networking sites like Facebook and Orkut as well. They have groups and pages for almost any interest you might have. You could even join a travel group and get a fantastic holiday out of it -- and get to know new people.
Says 28-year-old businessman Ashish Sabharwal, "Travel groups on Facebook are really a great way to meet people. I went on this trip to Ladakh a couple of years ago -- and it was super. I got to meet lots of really cool people, and ended up dating one of them for a short while. But I would say that even if you don't find someone through these trips, they're so much fun in themselves that you won't mind so much."
Try speed dating
Admittedly, this is a new concept, which is just gaining some ground in India, but it's worth exploring. Check if anyone's organising a speed dating event in your city; sign up for it and go with the right attitude. You'll get to meet a lot of people, but only for a short time, so be attentive and try to make an impression.
Keep an open mind
Yes, we know your ideal man looks like Brad Pitt, has Bill Gates' bank balance and is insanely in love with you. However, this is the real world, so keep your feet on the ground and your expectations reasonable. Sometimes, you could miss out on someone fabulous because you're busy chasing a fantasy. "My husband and I are opposites -- I love going out, he prefers staying home, I'm passionate, he's practical...you get my drift. So when I met him at first, it didn't even strike me to take an interest in him -- he just wasn't my 'type'. However, in hindsight, I'm glad he was persistent and forced me to understand the fact that I'd got my 'type' all wrong, and that he was The One," grins Sakshi.
And when you do meet someone, look for something real. While we're not denying that a fat paycheck and a holiday villa in the hills has its attractions, that shouldn't be the reason you get into a relationship. Look for attributes like kindness, a good heart, trust, commitment and love.
If you do feel like you have a spark with someone, don't sit back and wait for things to happen. Take the initiative, ask for a phone number or e-mail address. Remember, the key to playing the dating game is to be interested, but not pushy. Make him/her feel pursued, not pestered.
And ladies, you can take the initiative too, as long as you don't put out too soon -- make sure the guy is someone you're really interested in before heading to the bedroom.
Finally, just go with the flow -- enjoy the process without obsessing about it. There's a reason it's called the dating 'game' -- it's supposed to be fun!
*Name changed to protect privacy.
Check out all our Valentine's Day Specials!