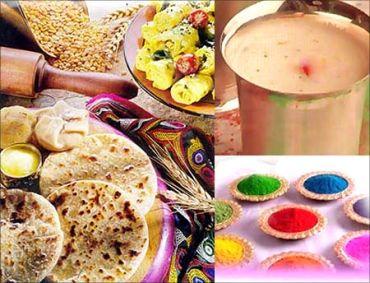 We invited readers to share some of their favourite Holi recipes with us. As part of an ongoing series, here are four desserts that you can prepare for friends and family:
First up, is everyone's favourite Thandai contributed by Rubia Taneja:
Cuisine: Punjabi
Type: Vegetarian
Preparation time: 30 minutes
Ingredients:
1 litre milk
2 tsp khus khus (poppy seeds)
Sugar to taste
15 almonds
8 cardamom pods
6 pepper corns
Preparation:
Boil the milk and keep to cool.
When the milk is at room temperature, add the grated almonds, khus khus and sugar and keep overnight.
Add the roughly ground cardamom to the milk and refrigerate.
Serve cold the next day with a few cubes of ice.
Health quotient: This recipe is good for the brain thanks to the almonds.
Next up is Rohini's recipe for Semolina Mango Custard:
Cuisine: South Indian
Type: Vegetarian
Preparation time: 30 minutes
Ingredients:
200 gm roasted semolina
300 gms sugar
1.5 l milk
5-6 strands kesar (saffron)
1/4 tsp elaichi powder (cardamom)
Roasted dry fruits: almonds, cashew, raisins
1 ripe mango, peeled and cut into small pieces
4 tsp vanilla custard power
Method:
Cook the roasted semolina in the milk for 15 minutes.
Once cooked, add sugar, cardamom powder, kesar and stir for 5 minutes
Mix the custard power in a cup of cold milk and add to the boiling mixture, stirring continuously.
Turn off the heat after 5 minutes and allow to cool.
Once cool down add mango slices and refrigerate for 2-3 hours for setting.
Garnish with dry fruits before serving.
Next Prateeksha Pagare shares her mom's recipe for Puranpoli:
Cuisine: Maharashtrian
Type: Vegetarian
Preparation time: 1 hour
Ingredients:
For the filling (puran)
1 cup soaked chana dal (split chickpeas)
1/2 cup jaggery
1/2 cup sugar
1 tsp dry ginger powder
1 tsp cardomom powder
1 tsp nutmeg powder
For the cover
1 cup wheat flour
1/2 cup refined flour
1/2 cup rava (semolina)
1/2 cup oil
Salt as per taste
Ghee (clarified butter) for applying on puranpoli
Method
Soaked the dal in water for 1-2 hours.
Boil the dal till half cooked and drain the excess water.
Add the jaggery and sugar and cook further until soft.
Mash into smooth thick paste and add all the powders.
Divide the paste in 8-10 little balls.
Next, knead the wheat, maida, rava and oil into a soft dough adding a little water. Divide this into 8-10 balls.
With greased palms, take one portion of dough and flatten it into a disc of the size of your palm. Place a ball of paste in the centre and fold the disc from all sides to cover the paste completely.
On a well-floured board or a sheet of clean transparent plastic wrap, gently roll out each poli.
Roast each poli on a hot, dry gridle. Do not use oil or ghee.
Smear with ghee on both sides when done and serve warm with a bowl of milk.
Health quotient: Chana is a good source of protein while jaggery is good source of iron.
And last, Ria shares her mother-in-law's recipe for Malpua:
Cuisine: This is the Bengali version
Type: Vegetarian
Preparation time: 30 minutes
Ingredients:
For Malpua
1/2 cup maida (refined flour)
1 cup milk
1 tsp saunf (aniseed)
2 tsp coconut
1/2 cup rava (semolina)
Ghee or oil (for frying)
4 tbsp sugar
1/2 cup khoya (dried, thickened milk)
For sugar syrup
2 cups sugar
4 cups water
Method:
Make the sugar syrup first by adding the sugar and water in a saucepan and allowing to simmer for 8-10 minutes till a thick syrup is formed.
In a bowl, mix all the ingredients for the malpua with milk to make a smooth batter.
Heat the oil/ghee and pour in the batter to form small pancakes. Fry till golden brown.
Drop the malpuas in the sugar syrup and serve hot.
Share videos of your Holi celebrations with us!