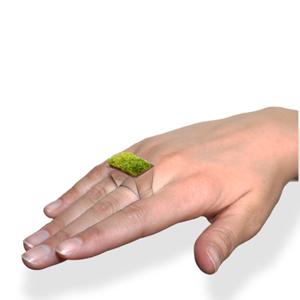 A jewellery designer has created rings with live plants growing inside them.
Said to be a "clash of jewellery and gardening", the rings feature tiny Icelandic moss plants sprouting in their stainless steel bases, reports The Telegraph.
The ultimate "green" collection is the brainchild of Hafsteinn Juliusson, who claims the masterpieces can last up to six months.
But, according to Juliusson, they don't need to be pruned because the moss grows "so slowly that you cant even see it."
Juliusson said: "It is important to take good care of Growing Jewellery."
"The owner must water it regularly and nurture it like any other plant. It's up to them to make sure that the jewellery is at it's best."
The 23-year-old said his pieces targeted city dwellers and are aimed at drawing "nature toward man."
"I like to approach design from new perspectives and reach a diverse range of people," he added.
He further added: "I want to be involved with society, ecology and I try to avoid mainstream mass production. Growing Jewellery is a redefinition of modern values. It is a clash of jewelry and gardening; couture and organism.
"The collection is designed for people in metropolitan cities and is an experiment in drawing nature toward man, as nature being the presupposition of life."
Juliusson, from Reykjavik, Iceland, says each ring will to cost around 485 pounds.
Photograph: www.hafsteinnjuliusson.com