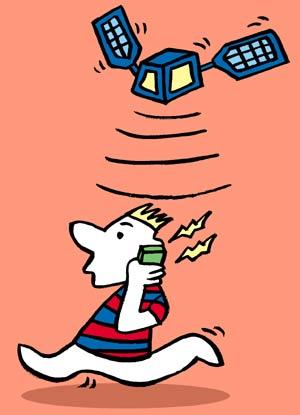 Everyone loves to hate their mobile service providers. On January 4, we carried A Ganesh Nadar's account of his cellphone connection going from bad to worse while on tour and asked readers to share similar experiences with us. Here, Deepesh Krishnan tells his story. Illustration: Uttam Ghosh
Nothing could have prepared for me this!
It was a busy Wednesday morning, everything was normal at the office -- customer issues were under control, sales were okay. Suddenly I get a call from the reception saying that someone from Airtel was waiting for me. I hurried to reach the office, being less than 5 minutes away.
When I met the Airtel representative, he asked me for my proof of identity. I was taken aback -- what was the need, when I had a working subscription for the past 3-4 years and he was standing in my workplace? He handed me a packet and said, "Your new replacement SIM card is here." I was amused to get a card which I never asked for; I thought for a second that I was being upgraded to 3G, but then I realised there is no 3G available from private service providers.
I question him further, grilled him hard, poor man, but he had no answers and I thought he was helping me, giving a replacement SIM. I relaxed and went back to my desk, assuming this may have been one of the million other goof-ups mobile service providers commit.
At around 11 am, I called up the mobile helpline, asking them about this SIM card. They inform me that my cellphone had been lost the previous evening and at night I had called them for a replacement -- that morning, they had dispatched the same to me. I was left speechless!
Suddenly I realised my mobile did not have any signal -- the SIM had stopped working. I switched it on and off several times to no avail. I called the helpline again, and they informed me that the mobile would be activated in the next 6 hours. No such luck. It was still without network well past midnight and the second day, and no one I telephoned at Airtel had a clue what I was talking about -- each time I ended up repeating the whole story.
After about 10 unsuccessful attempts, I walked over to the nearest customer service centre. I was waiting for about 30-35 minutes and a large group of employees were outside, chatting. The place was getting swabbed and it was smelling of phenol. Once the activity was completed, I asked them why they made the customers bear the stench indoors, when they could have asked all of us to wait outside? No answer!
I had to complete several formalities, furnishing papers to prove my identity and getting my new SIM card activated. Finally, in the next 6 hours, after waiting for 2 days, the mobile was working again.
I pursued the case with Airtel customer care, the nodal office and the appellate authority for the needless inconvenience caused. I have not received any response.
I also have one big question -- when we customers pay up our bills one day late, we are charged Rs 100, but when the service goes dead when it's their fault, I get no compensation! And separately, I wanted them to reimburse the charges I had incurred when I had to call so many times using other phones -- isn't that fair?
Isn't Airtel a responsible organisation? 
As usual, I did not received any reply to these questions. Any answers, Airtel?
Have you had a nasty cellphone service experience? Share your mobile woes with us. Write in to us at getahead@rediff.co.in (subject line: 'Mobile woes') and we'll feature your story, right here on rediff.com