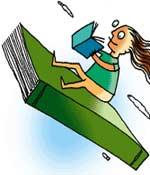 Studying in the UK might be a dream for many, but there are many pitfalls students (and their parents) should be aware of before they embark on their study abroad journey. This article is to help potential UK students who wish to consider UK as the country to study, live and work. In my experience, many students are not guided honestly in building their careers in the UK.
Often students run into agents who are commissioned by bogus, low-grade colleges in the UK for getting admissions and visa using 'short-cuts'. At most these students ask some of their friends already in the UK about the system. My advice to students is to use the British Council office in India to evaluate the institutions. Find out first if the college a private limited company and if it is, be careful that the college enjoys a good reputation and has been stable for years. The reason why I mention this is because the company and the owners are a separate legal entity. If the company that is your college is in trouble, you end up losing your money. You will be left helpless if you go to the UK to find the college is no more trading.
So before you buy your ticket to London, take a look at some of the things you need to know:
Is the college is a private limited company? Find out what if the company has a registration number. You can check if the company is trading or not by searching on www.companieshouse.gov.uk. Just enter the company name or registration number to check the status of the company. If you see that the company is dissolved, do not enrol. The quality of the education provider matters and will affect your career. So before applying to any college whose advertisement boasts about bright career prospects, make the effort of researching the institution before giving in to the excitement. Remember you want to come to the UK to build your career.

If the college shows it has a MBA programme accredited by a UK university then find out directly from the university if the college is authorised to use their name. Some selfish business owners from Asia settled in the UK form companies and may use the name to show that they are associated with premier universities. They advertise heavily in Indian newspapers to attract maximum students. Every college is not like that, but I have seen several students suffer due to some unscrupulous elements.

Try going directly through the college rather than the agent for visa or admissions as the criteria is academic merit and not the agent's name. No one can guarantee the visa for you. You do not need to have 80 per cent+ to get admission in the UK as applications depend on different criteria for different educational institutions. Some bogus colleges take anyone as long as they pay. To ensure that you are applying to a good institution make sure that the college or university has a sponsorship number or license. This is a new provision introduced by the Home office in the UK to clamp down on bogus colleges.

Once you are convinced that you have found the right course, college or university apply honestly. These days you can do everything online. You can pay the registration fee directly online or by calling the institution. Make sure you get a receipt for your payment and it should clearly state the process in case of visa refusals. For instance, if the course costs GBP10,000 for an MBA, they may ask for GBP5,000 for registration to issue a non-conditional offer letter for admission. Before you pay make sure to ask how you will get a refund if your visa application is refused. There may be a reasonable admin charge.

The admission letter then can be taken to Indian banks for educational loan application purposes. Banks have really come up in last few years to make the process of educational loans very easy. You can apply online. Try SBI, OBC and others. Do not over borrow for laptops, mobile phones and other stuff that you may not need now. Why? This is because every pound you borrow increases loan repayments since the interest will be compounded. Thus, be reasonable and try to arrange as much as you can from other sources. Also, do not lose the desire to study in the UK just because you do not have solid financial backing. You may get scholarships or a loan if your family has a fixed asset that could be a collateral security against the loan. Do not rely only on what friends say about loan rates. Make a habit of finding out yourself by going to as many banks as possible. Many times students take short cuts and end up in a mess.

During the visa process, fill the form honestly yourself. Be to the point. Do not lie if you have applied for a visa and have been refused one for any country. If they ask your household income be sure that you have facts to support your claims like bank statements, PAN card, income tax returns, pay slips, etc. The main foundation of the application is correct details and solid finances as the UK government will not allow you to enter the country if they perceive that you do not have the finances to study and live in the UK without depending on their public funds. If you are not sure about anything, visit www.homeoffice.gov.uk or ask the university where you seek admission.

Once you have reviewed your application submit it and wait for the outcome. Once you get the visa prepare to come to the UK. No book or article can prepare you for the hardships of a student in the UK. It is a great experience to study in one of the best places in the world like London. You learn to grow 10 times quicker than what you experience in India as you don't have the comfort of your own home, with no pressure of paying rent or bills etc.

Finding accommodations is challenging before you arrive in the UK. Thus my advice is research well in advance. Websites like www.gumtree.com , www.findaproperty.com are good places to start looking for a room. Most students share a house or flat. University-arranged accommodations will be much more expensive ranging from a minimum of GBP110 per week + bills depending on the area you will be living in. Do not pay the money to advertisers as there are fraudsters preying on innocent people. The best approach is to contact the person by email first. Ask for the full address and speak to them on the phone. Agree that you will give the deposit on arrival. Sometimes students pay in advance and may be disappointed as landlords specially are not too concerned about the welfare of students.

Having said that, if you go through an estate agent it may become easier but will prove expensive. Again my suggestion is first visit the place, read the contract and then pay. Unfair contracts may be written so you can object if you do not agree with them. Contracts for tenancy vary from one month to one year depending on your need.

Please make sure you look at the termination of contract rules too. Ask them if they will put the deposit in a special fund as many times students do not get refunds because landlords make excuses of unfair wear and tear in the property. It is normal to give a month's or one week's notice for leaving. Make sure you do not sign for your friends, like if you are three friends who want a three-bedroom house for say GBP900 per month inclusive of all bills. Please get a contract drafted where you are responsible for only your share of the rent that is GBP300.  If you sign as the responsible person for paying the full amount and your friends leave you will be liable to pay all GBP900.

It is fair to get all names on the contract, clearly stating you are responsible for paying only for your room. Get proof of electricity, gas reading by taking a picture of meters on the day of arrival on your mobile phone. Thus when the bills come you will pay from the day you rented the property.

If you live in places like East London which is just 20-25 minutes by London Underground to Central London where most good universities, are you may find a room for GBP65-90 per week including gas, electricity and internet. One more thing, full-time students are exempted from council tax so if anyone tries to charge you for that refuse to pay. To gain exemption on council tax you will need a letter from your employer.

Make sure you spend time in making your resume neat, precise and improvised so that it fits the job you will be applying for. Do not cut, copy and paste your friend's resume to avoid disappointments. Make a good covering letter and state how you will add value to the employer. Merely saying 'I am confident, I can do anything' will not land you the job as there are millions of students and people looking for jobs in this recession. But do not lie. If you have not done it, don't make it up. Be honest and your sincerity will go a long way.

National insurance: As a student you are allowed to work only 20 hrs per week and when the session is over you may be allowed to work full time as per home office rules. But please confirm this from www.homeoffice.gov.uk. You will need something called a NI number (National Insurance number) before you can start working. You can apply for this number on the phone once you arrive in the UK. You will get a date of appointment once you speak to an advisor on the phone. If you find work before this, let your employers know that you have applied for it as it may take a while till you get it. This number will look something like this: ST245763A, and will be on your pay slip. For more information on NI, visit www.directgov.uk.

Finding a job is very hard and I make no assurances that it will be easy or you will get a job through a contact like in India. You should be prepared to do everything yourself. The sooner you realise this the better it will be for you. There are always jobs available for students here so apply properly. A typical example is instead of applying for 30 positions in a day where you just applied by sending your CV to 30 companies without a covering letter and understanding the job requirements send 10 good, well thought out applications. You will get positive results if you apply yourself qualitatively not quantatively. Be prepared to fill online job application forms. Jobs where most students can get jobs are in the retail sector. If you work in London you can expect to earn a minimum of GBP5.73 per hour to GBP12 per hour depending on the work you are doing. Good jobs sites are www.totaljobs.com, www.monster.co.uk.

Health: Get registered at the nearest doctor in your area as soon as possible by visiting www.nhs.uk. You just type in your post code, eg SW16 6EY, and click search for GP, dentist and walk in clinic. It is advised that you do this as soon as possible, so that if you are unwell you know where to go. In case of an emergency, dial 999 and say ambulance if you are serious. Do not waste their time if you have a mild headache. The same number, 999, is for the police and fire brigade too. Also, 999 calls are free.

For mobile phone deals use comparison sites like www.moneysupermarket.com. You may find good deals there. Try a SIM only deal without a long-term contract, for just GBP10 a month if you do not have a job.
For more insights on career development, business start-up advice, how to make a resume that stands out, how to become a professionally qualified accountant in the UK and more such features, watch this space.
The author has completed the executive education course at Harvard Business School and is CFO, Impact Accountants.