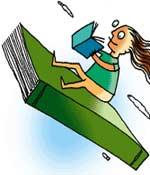 Known for its affordable and world-class education, New Zealand has emerged today as one of the leading study abroad destinations. Another factor that attaracts Indian students is the country's quick permanent residency policy coupled with better job prospects.
"New Zealand universities and colleges never compromise on quality education despite the fact that some education institutions over there do accept students without the IELTS," says Harpreet Singh Oberoi, a leading New Zealand study visa and immigration expert and managing director of Jalandhar-based IFM Immigration and Visa Consultancy (New Zealand government's only approved study visa consultants in the region).
Excerpts from an interview with RMS Atwal:
Now that New Zealand has made its mark as a study destination, how would you describe the country from the Indian perspective?
New Zealand is renowned for its high quality standards and affordable education worldwide. Although New Zealand is a small country, the big education vistas that the country has thrown open for overseas students have taken it much ahead of other countries in the fray vying for recognition in global education.
Indian students are going to the UK in hordes thanks to the country's 'no IELTS' slogan. What about New Zealand? Is it thinking on the same lines?
Not at all. New Zealand always looks for quality students who are fairly good in English since it is the predominant language in the country. For students aspiring to pursue higher studies in New Zealand, it is generally an overall band score of 5.5 which is one of the main pre-requisites. Being a small country, New Zealand has never compromised on quality over quantity of overseas students. Nevertheless, it has an option to welcome secondary school students for pursuing education even without the IELTS (International English Language Testing System). But the requirement of a good academic background cannot be challenged in any case.
Recently, there have been some visa rule changes for New Zealand. How are they going to affect our students?
There have been no major visa rule changes for New Zealand as such. All it talks about is of three factors in an application to be justified for student visa viz academic level, English proficiency level and financial credibility. As such, if a student possesses a rational level of each, s/he has quite good chances of visa approval. However, the change is more associated to the processing timeframes and the system has brought such a change to ensure uninterrupted/smooth working, along with priority to those applications bearing a healthy mix of all the said components. I believe such a change is systematic and really good for the students waiting in the wings to fly to New Zealand.
Permanent residency is certainly one of the aspects on the minds of Indian students. How good is New Zealand for them?
New Zealand is one of the safest and most easy-to-settle places within a short span of time. In the Indian scenario, where students are all determined to achieve permanent residency on study completion, that country provides a wonderful option. For New Zealand PR, an applicant needs to score at least 140 points which can be scored on the basis of their academic qualifications, work experience, age, language proficiency, etc.
Some students find it hard to get jobs in NZ on study completion. What you have to say?
Finding a job is not hard in New Zealand, but yes, the choice of region does matter and type of job. Students can find part-time jobs in commercial hubs, restaurants, fast-food centres, day-care centres, where they make from NZ$ 8 to 16 an hour. For example, after the USA, New Zealand has the largest number McDonalds chains. Therefore, it opens many opportunities in the hospitality industry as well.
Most overseas students there look to the UK or the US? Do you think they have better options in New Zealand itself?
Definitely yes! New Zealand has been rated and defined among the developed countries. After the US, New Zealand has the largest animation industry working for Hollywood. Most of the famous characters like all series of Spiderman, Superman, Phantom, etc have been produced and edited in New Zealand. Also, in other fields like hospitality and horticulture, the country has vastly expanded horizons. Therefore, along with the academic training, the country has real-field experience to offer to its students.
Is the NZ education affordable for our students?
Certainly yes. The annual living expenses of the country are just NZ$ 10,000 and the currency conversion is comparatively low as compared to the scales of other countries, which makes it affordable for even a middle-class person to weave a dream of educating his child internationally.
What advice do you have for our students thinking of flying to that country?
Well, it is just apt to say that the faster way to gel well with the Kiwi culture and to get settled in New Zealand is to live among New Zealand students and make them your friends. Since it is a warm, welcoming and friendly country, our
students can give wing to their dreams.
RMS Atwal can be reached at rajatwal55@yahoo.com