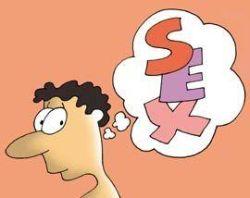 Here are the results of a survey on how many times men think of sex each day. Let us know if you agree with the findings! Illustration: Uttam Ghosh
An average man thinks about sex 13 times a day, according to a new poll.
OnePoll.com questioned 3,000 people to come up with the finding.
Results showed that comparatively, an average woman thinks of sex just fives time a day.
And, even though men think of sex at least a dozen times a day, they have it just twice a week, or 104 times a year.
"Men are well known for thinking about sex a lot, but to find out exactly how often they do is staggering," the Mirror quoted the market research firm as stating.
It added: "It seems blokes have sex on the brain whether they are in a dry spell, or jumping between the sheets on a regular basis."
However, three quarters of men were happy with the amount of sex they were getting.
What do you think of the poll findings? Do you think they inaccurately portray men as oversexed, or do you agree with the results? Post your comments on the message board below!