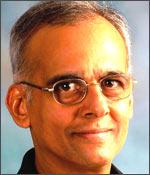 Andrologist and microsurgeon Dr Sudhakar Krishnamurti will be responding to rediff readers' sexual queries on a regular basis.
We invited Get Ahead readers to mail in their questions. Here is the next set of responses:
---
Dr. Krishnamurtiji,
I am a 50-year-old male. I had a road accident in 2002 and I lost my memory. Though I am alright now, I have a sexual problem. My genitals do not get an erection like they did before the accident, due to which I am unable to enjoy married life. Please suggest some medicine or oil to overcome this deficiency. I shall be very grateful for your suggestions.
Thanks and regards,
Rajesh
If the road accident has caused any injury to the brain, spinal cord, pelvis or perineum (the area between the penis and the anus), it is likely to affect erectile and ejaculatory functions. You must undergo a complete andrological evaluation (www.andrology.com/erectiledysfunction.htm) immediately.
---
Hello Doctor,
We are married for 6 and a half years. For the last 5 years our sexual involvement has been very little, say for about 3 months. We are both having regular sex after the child birth, but he says he is not feeling the depth of the vagina, so he started having girlfriends. He literally does not touch me still, he says the vaginal hole is very small and he is a tall guy 5'7". I am about 5'. Is this the prime cause?
The way he uses me is also not good, it's a kind of masturbating -- most of the time he ejaculates by just rubbng his penis onto my thighs. By the time he's finished, I feel like having his penis in me but it's all over and he turns and goes to sleep. So even I tried to have sex with another guy of the same height and it was really pleasurable, but I have stopped going to him.
Somehow both my husband and I imagine we are dealing with somebody when we both are having sex. I am sick of all this -- we are of the same age, 34 and same weight, about 60 kgs. We are vegetarian and he watches nude girls on videos, masturbates and bullies me, saying I am not satisfying him, so he is going to other girls. We quarrel often about this issue -- there were so many things that went out of hand that we nearly got a divorce, but since we have a kid, each time it just stops short. The way he handles me also matters -- he puts his all weight on my chest and stomach and does not allow me to lift my hips. In the same position he will ejaculate without actually inserting the penis into the vagina, otherwise he will lie down and want me to suck his penis. Earlier I was doing it, but there is no drive from his side. I am not enjoing the way he has sex with me. Can anybody change him is the question, because he won't go to a doctor for any clarifications.
Regards
You are in a mess. If there is no equality of status and mutual respect within a marriage, problems such as yours can never be resolved. What you need is for both you and your husband to sit across a sexual medicine (www.sexualmedicine.co.in) consultant's desk and discuss your problems. But it does not seem that your husband is the sort who will be agreeable to such a suggestion.
---
Dear Dr,
I want to know -- I am a married man with two kids and my wife and I enjoy sex and a happy life. The first time we have intercourse it is okay, but when I try for the second time it take time for my penis to become strong and my wife has to play with it. Sometimes it takes too long and while inserting it in the vagina, after a few minutes it becomes loose. So please advise me about this -- if I don't wear any underwear, will the penis size become short? I need my penis to be strong and tight. Please give your suggestions.
Farooq
Only men who are unable to attain and sustain a good enough first erection to the point of complete mutual sexual satisfaction clamour for a second and a third and a fourth erection. Please read Chapter 27, The Umpteenth Time, in my book Sexx is Not a Four-Letter Word (www.sinaflw.com). . This book is conveniently available online by doorstep delivery through its website, and through Rediff Books.
---
Hello Doctor,
I am Amit Saxena, currently studying in BTech (4th year) in Shimla. I came to know about you from rediff.com. I am having intense sexual problems.When I was 12, I started masturbating a lot. Due to that, I started feeling a burning sensation after masturbation and during peeing in Class 10. So I decreased the masturbation, but the problem continued. At the same time, there was some smelly liquid starting to come out from my penis when I got excited.
After two years I joined my college, and took some ayurvedic medicines from a doctor.It did not help me. Then I switched to homeopathic medicines from a doctor without a degree in the third year of my college. It also did not help me a lot. Then I went to a small government ayurvedic hospital, where they gave me some ayurvedic medicines like Ashwagantha, Speman, Vang Bhasm etc. I took the medicines for seven months but it improved my health a little, not much. So now I want your suggestion on what I should do? I am very frustrated and feel like committing suicide. Please help me out of this situation. If possible, please suggest some medicine.
Thank you.
What you need is sex education, not treatment. Your ignorance of sexual health matters is colossal and that's what's causing you all this trouble. Please read chapters 9, 11 and 39 in my book Sexx is Not a Four-Letter Word.
---
Dr Sudhakar Krishnamurti is an international award-winning andrologist and microsurgeon. He is the only Indian on the world's first-ever batch of sexual medicine fellows (Oxford, 2007). Best known for the Krishnamurti Operation for Peyronie's Disease, he is also the founder of Andromeda, India's first andrology center, and author of the book Sexx is Not a Four-Letter Word. Click here to purchase the book from rediff Shopping.
Disclaimer: Please note that Dr Krishnamurti will be answering the most relevant queries at his discretion each week. His advice may not necessarily reflect the opinions of rediff.com and while it is in the capacity of professional medical counselling, it in no way should be considered an alternative to visiting a medical specialist for sex-related ailments.
Illustration: Uttam Ghosh