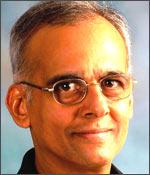 Andrologist and microsurgeon Dr Sudhakar Krishnamurti will be responding to rediff readers' sexual queries on a regular basis.
We invited Get Ahead readers to mail in their questions. Here is the next set of responses:
---
Hello,
We follow foreplay and other suggested methods before intercourse. My wife feels pain at initial intercourse and during orgasam What could be the possible cause and remedy?
Regards,
Venkat
It is not possible to tell why your wife feels pain during sex without obtaining a detailed history and conducting a physical examination, and maybe a few tests. You might want to schedule an appointment -- visit www.sudhakarkrishnamurti.com/onlineconsultation.htm for more details.
---
For how long can intercourse be allowed during pregnancy?
If the pregnant woman is in otherwise good obstetric health, sex is generally considered safe in the middle three months, and something to be engaged in with due precautions in the first three and last three months. The best person to advise you about this would be your wife's obstetrician, who knows best if the pregnancy is a high or low risk one.
---
Sir,
I have a girl friend who is so fond of giving me oral sex. This is going on almost daily since four years, In fact, she is so addicted to swallowing my semen that not a single day passes without it. The lady is 40 years old now, married and has college-going children. She is now a diabetic patient with sugar levels above 250. Is this because of the regular semen intake? What are the other implications she could face because of this habit (I do not have any STD)?
It is extremely improbable that the small quantities of fructose contained in human semen will aggravate your fellatiomaniac girlfriend's diabetic condition. If both of you are otherwise in good health and infection free, this practice should not cause you any problems, at least until your girlfriend's husband walks into the room one day and catches both of you red-handed in the act. Then you'll have a different set of problems altogether.
---
Hello Dr Sudhakar,
I am a single male, 28. I am planning to preserve my sperm for later use since I heard the quality of sperm decreases over age. I have three questions:
1. I am a health-conscious guy. I indulge myself with rigorous fitness regimes that include weight training, take supplements which include ZMA, multivitamins, glutamine, gokshura, whey protein etc. How will this affect the prospects of retrieving best quality sperm?
2. What circumstances, in terms of daily life, climate etc would be favourable for retrieving the highest quality sperm for preservation?
3. Also, just how long can sperm be preserved with a near-perfect success rate for IVF for later use? Two years, five years, 10 years? What is the rough estimate of cost involved? Please let me know the answers from the best of your knowledge.
Thanks,
Vivek
Even men in their eighties and nineties are known to father children. So just relax and get on with your exercises. You don't need to do anything drastic just yet.
---
Dr Sudhakar Krishnamurti is an international award-winning andrologist and microsurgeon. He is the only Indian on the world's first-ever batch of sexual medicine fellows (Oxford, 2007). Best known for the Krishnamurti Operation for Peyronie's Disease, he is also the founder of Andromeda, India's first andrology center, and author of the book Sexx is Not a Four-Letter Word. Click here to purchase the book from rediff Shopping.
Disclaimer: Please note that Dr Krishnamurti will be answering the most relevant queries at his discretion each week. His advice may not necessarily reflect the opinions of rediff.com and while it is in the capacity of professional medical counselling, it in no way should be considered an alternative to visiting a medical specialist for sex-related ailments.
Illustration: Uttam Ghosh