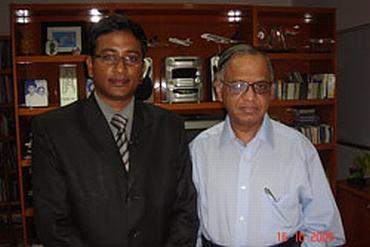 As part of a unique iniative to help its students learn from the best, ISB Hyderabad organised the 'Shadow a CEO' programme where three of its students met and spent a day with three stalwarts of Indian industry -- NR Narayana Murthy, Kiran Mazumdar Shaw and KV Kamath.
Here, Chaitanya Sagar Bethu (ISB Class of 2010) shares his experience of spending the day with Narayana Murthy, Infosys chief mentor.
---
Ever since I knew that I would have the honour of shadowing Mr Narayana Murthy for a day, I had been eagerly waiting to live my dream. October 16, 2009 was the day of my encounter with this living legend.
I reached the Infosys campus in Bangalore on October 15, a night before our meeting. On the morning of the 16th, I made some mental notes on what I would discuss with Mr Murthy during the course of the day. I reached his office at 8 am and sure enough, he was ready in his room to extend a warm welcome. For a minute or two, I must confess, I was speechless. To meet one of the most accomplished and respected sons of India in person seemed surreal.
Mr Murthy brought me to ease by asking a few questions about my stay and travel to Bangalore. He then briefed me about the plan for the day -- a total of 10 back-to-back meetings with only a half hour break for lunch. Yes! That is a typical day for him. The meetings were on a wide range of subjects. The first one was with the management of an NGO, of which he is a board member. He gathered updates from them on the progress they have been making and gave them guidelines on a couple of matters. He also reinforced his commitment to the NGO and I could clearly sense the gratitude in their voices towards the end of the meeting.
The meetings that followed were pertinent to Infosys. They were on matters such as strategy, innovation, training and infrastructure development. Mr Murthy amazed me with his high level of participation, his open-ended questions, his knowledge of the latest technologies and business developments and above all, his incredible energy levels. He addressed all those present in the meetings by their names, listened enthusiastically to all that was being presented and discussed and was quick to praise every significant contribution. His clarity of thought is to be heard to be believed. Every time he spoke, I could feel the sense of purpose in his words and the conviction in his voice.
Over lunch, I briefed Mr Murthy on the student life at ISB and about the curriculum there. He had lots of praise for ISB and mentioned that ISB set an example for other B-schools in India on how to scale up without compromising on the student or faculty quality. We also talked about the need and importance of corporate governance, ethics, transparency and corporate philanthropy.
Post lunch, I attended five meetings with Mr Murthy. These meeting were focused on marketing, mentoring and innovation. In one of the meetings, he articulated beautifully the importance of maintaining proper work-life balance. He opined that simple attributes such as prior planning and prioritising could help achieve the right balance. In another, he talked about the importance of investing time and resources on research. Over a telephone call, Mr Murthy also took time to coach a senior employee based out of Europe. During my conversation with the employee, he mentioned that Mr Murthy is his mentor and that he takes time and effort to coach him at least once every three months.
As the day drew towards an end, Mr Murthy and I went on a guided tour of a newly constructed building on campus. It is an engineering marvel. Mr Murthy mentioned that the upcoming campus in Hyderabad would be an even better treat to the eyes. He discussed in detail the proposed layout with the chief architect.
Finally, it was 7 pm and time for me to bid adieu. Mr Murthy mentioned that he enjoyed spending the day with me and wished me good luck.
As I look back jotting down my experience of spending a day with Mr Murthy, I still cannot help it feeling surreal. During the day he mentioned that 'work' helps him unwind. The fact that he has been living such action-packed and fulfilling days for over 30 years is inspiring in itself. From tangible advice on time management, multitasking and the likes, to intangible insights into social responsibility in particular and life in general, the learning was manifold. The day will not only be one of the most outstanding moments of my life at ISB but will also remain an indelible and enriching experience of my lifetime.
---
Reader invite
Met Mr Murthy or learnt a lesson or two from Prof Prahalad? Share with us stories of interactions with your idols and what you learnt from those dynamic women and men. Write in to getahead@rediff.co.in with the subject 'I met my idol' and we'd love to publish the most inspirational stories right here!