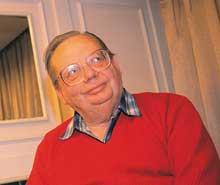 He penned his first novel at the age of 19, and won the prestigious John Llewellyn Rhys Memorial prize for his novel Room on the Roof next year in 1957. Best known as a children's author, Ruskin Bond has several novels, short stories, poetry collections and children's books to his credit, some of which have been made into films such as Junoon directed by Shyam Benegal (A Flight of Pigeons) and The Blue Umbrella by Vishal Bharadwaj. Amrita Bose chats with the author about his school days, writing and his love for India.
Where did you go to school and what was it like?
I attended Bishop Cotton School, Shimla as a boarder for eight years. I had mixed feelings about boarding school. I thought I'd much rather be in a day school. Prep school was great fun. We were always up to mischief. I did fairly well in studies and games. But senior school was not that fun because we were told to take life seriously, thanks to our looming career decisions ahead.
When did you start writing?
I was always writing the odd story or two in school, and realised that I wanted to be a writer when I was in school. I was quite a bookworm from my early school days, and was in fact made in-charge of the school library.
Did you study regularly? Or were you a last-minute study type?
I was never interested in exams. I used to hate them and never studied for them. I was good in humanities subjects like literature and history, which really did not require much effort from me. But I was a complete flop as far as science and maths were concerned. I have a lifelong allergy for exams.
How was college? Where did you study and what did you graduate in?
I never attended college and educated myself in second-hand bookshops. After school, my mother packed me off to England for a better life. In 4-5 months I started missing India badly and desperately wanted to return. I had no money and had to take up a job immediately. I kept a series of jobs, as a clerk in a travel agency and a photography store. Meanwhile I was writing my first novel, out of my yearning for India.
How did you get it published?
It took me a whole year to find a publisher after a couple of rejections. Finally, the famous literary editor and author Diana Athill read my manuscript and suggested that I redraft my novel. I was paid a princely sum of 50 pounds as advance. This was enough for me to travel back to India. Fortunately, Room on the Roof was well-received and I won the John Llewellyn Rhys Memorial prize for it. I started freelancing after I came back to India. There were only a few book publishers in those days but there were several newspapers and magazines during the 1950s that gave me regular work. The pay was just enough to get by.
Is writing a lucrative profession today as compared to the time you started out?
Yes, writing as a profession is much more lucrative today. Especially when you have some published works to your credit. Royalties help out writers a lot. Just freelancing in itself may not be that easy. As far as books go, today Indian writing is doing very well. More and more Indian and foreign publishers are showing interest in publishing works by Indian writers. There is a huge market for books today. In spite of what people say, that reading as a habit has gone, I see much more of it today thanks to the education system and the widespread reading and writing in English as a result of it. Looking back to my school days, in a class of 35 boys, only two or three were interested in reading. Reading was strictly a minority habit then even though we had no distractions of the internet and television.
Should you work in a field you are passionate about or to pay the bills?
You should always choose a career that is close to your heart. If you do something you don't like doing you won't be happy doing it. Also, you should think about what you really want to do at a young age. Don't be disappointed if things don't go well in the beginning. Throughout my life I also had many ups and downs. Take a decision and keep at it.
Photograph: Outlook Group