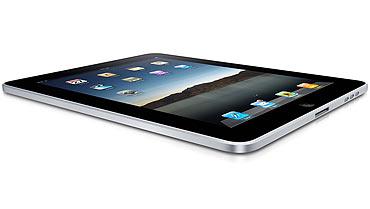 Apple launched the much-anticipated iPad on January 27 and has set techies across the world dicussing all the iPad is and could be.
So we asked readers to send in what they thought of Apple's latest and whether the iPad will truly present the user with a unique experience. Here are some of the responses we received:
---
I was eagarly waiting the new gadget from the Apple Inc factory and was expecting something unbeatble, new and out of the world. Well looking at the videos of iPad and the wide range of applications which it offers I must say that I was not disappointed. The multi touch screen, the easy navigation, virtual keyboard are all things which are absolutely bang on in today's world. The multimedia experience, I am sure will take us to new heights with this super swanky gadget.
I have iPhone 3G and iPod shuffle, so far Apple has been my fav brand as far as the innovation technology is concerned. The price seemed to be the deciding factor for Apple products as most of the products are a tad too highly priced and may be bit out of reach of the common man.
However with the kind of pricing Apple iPad has come up with it is gonna set the market on fire. The critics can have their say with respect to the size and handling comfort but for me iPad, iPhone really are the trend-setting and absolutely high quality products.
-- Sameer SK
---
If you see the type of functionality that the iPad provides, it is quite good and ready to meet quite a number of purposes. But the main problem is not with the device but rather with usability. For instance:
How to hold it? Will such a big LCD screen so close to my face be good for my eyes? If I keep it in my lap, will it strain my spine?
Now considering different usage and the above points, I thought the iPad would be good for only one purpose 'E-Book
Reader', and it will complement the existing e-book readers like Kindle rather than replacing it. Kindle is good for novel reading where as iPad would be good for text book and reference materials. For instance, a replacement for big books which we normally use at our study desk, a companion during travel.
The problems are no of Flash support and no camera or multitasking. So the biggest question which has been asked
by different people at different events is: what is it going to replace? The answer is: your bookshelf at home.
And as we normally do while reading a book, we can do a quick check  of emails or Facebook and news. So only for those quick checks all kinds of extra functionality has been added. But it is not meant for activities that require lot of typing.
Now the only extra thing is music and video. I think sometime while traveling we get bored with lot of reading and think we might like to watch a video or listen to music. So to fill that gap it's there. But I am sure music and video is not at all the main USP for iPad. If anybody would be interested only for that functionality then they have the other products to fill that gap.
So will the iPad be the run-away success Apple's mp3 player was? May not be since the target segment is very small compare to a generic MP3 player. And again it has to complete against HP Slate, Apple Kindle and many other similar products.
Would I consider buying the iPad? Sure but I will wait for HP Slate and then choose the better one.
Do I own Apple products? No. I always choose an alternative to Apple products as they provide better features. Like I had a Microsoft Zune and an HTC HD2.
-- Jayanta Mohapatra
---
Amidst much speculation, the 'iPad' was launched but to me it would follow the same path which it's precursor (1st generation iPhone) followed. To put it simply, I think initially the first-generation of users would have high expectations with this but it might not live up to that.
Ironically the ipad doesn't have many essential features like a camera, flash support, USB port or simple multi tasking features which many potential users would find a bit hard to fathom. Yes it does have added values with photo managing and sharing features, e-books etc, however all these features might not be very interesting to the changing Indian demography (and market).
Most Indian consumers would like to buy a simple laptop or may be a MacBook instead of an iPad as the former would have more features within the same price range. The Apple brand will have much influence on overall sales but that also might not help much as evident with the iPhone experience. This might differ a bit in North America or in Europe as customers have a bit different preference in these markets.
It would be interesting to see how the competitors like Google, Sony, Nokia, LG etc react to this new product market. I'm optimistic that their upcoming product line with low price and extra features would pose significant challenges to the iPad in the near future.
-- Deepak
---
Reader invite:
Will the iPad be the run-away success Apple's mp3 player was? 
Would you consider buying the iPad?
Do you own Apple products? What has your experience been with the iPod or iPhone?
Share your opinions and experiences with us at getahead@rediff.co.in (with the subject line: 'My take on the iPad') along with your name, age and location and we'll feature them right here.
Photograph: Apple.com