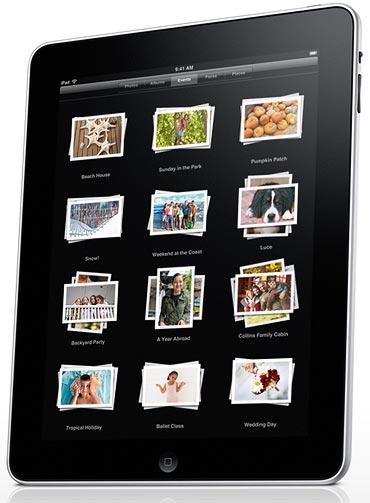 It is easily one of the most coveted gadgets in the world, having made the cover of both Time and Newsweek, single-handedly reviving the tablet industry, and adding a whole new dimension to accessing content on the move. We are talking of the Apple iPad.
Such is its attraction that thousands of people in India are already queuing up for it, even though it has not been officially released in the country, asking relatives and friends abroad to get them a unit or simply picking one up from the grey market.
If you are one of those swayed by the iPad and are itching to get one, our advice to you is simple: wait. Why? Because of these very valid reasons...
Lack of official support
Call us old-fashioned, but when are shelling out big bucks (and beginning at around Rs 30,000 in the Indian grey market, the iPad is hardly inexpensive), we would like some official support and warranty for our money.
The iPad is, as yet, not officially supported in India, so even if you get a unit legitimately from abroad, you will have to send it abroad if -- lord forbid -- something goes wrong. Not a great idea.
Mobile data connectivity
One of the biggest attractions the iPad has is its ability to access the internet on the move at 3G speeds using its inbuilt data connectivity. Once again, this is a feature that will simply not work in India.
Of course, one can circumvent that by jailbreaking the device, cutting one's sim card down to a smaller size and surfing on GPRS, but believe us, the experience you get is not too great. Accessing the net on Wi-Fi is a much better option but then, bang goes mobility.
Price
For all the chunter of the media about the iPhone 3G and 3GS' high prices, the fact is that factoring in the contracts, the iPhone was very economically priced in India. We have therefore, good reason to believe that the iPad, when it is official launched, will not cost a bomb either.
Save your sim card
The iPad requires a special kind of sim card called a micro sim, which is not yet available in India. You can get a normal sim card converted into a micro sim with a bit of cutting and chopping, but this is an iffy affair and you run the risk of being left holding nothing but a useless scrap of silicon (or paper or whatever it is they use). We really think it makes more sense to use a proper micro sim, when it finally does get released.
Improvements
Call us optimistic, but we have a sneaky feeling that Apple is working on a new version of the iPad which will be released shortly. The reason for our thinking this is simple: the introduction of the retinal display on the iPhone.
It would be ironic if Apple's phone had a display that was superior to its tablet in terms of pixel density per inch. We are betting that a new version of the iPad is going to hit the stores in a month or two.
So there you have our case for biding your time and waiting for the iPad to come to India. Of course, go right ahead and get it if the itch is uncontrollable but if you have the patience, then take a deep breath and call on those two qualities so eulogised by the Count of Monte Cristo: wait and hope.
Photograph: Apple.co.in