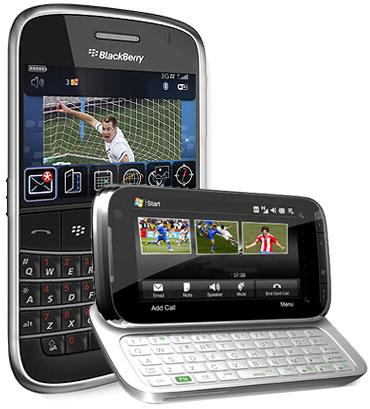 Get into the FIFA groove with your phone. Games, apps, score updates, statistics...there's something for everyone in the digital world around the World Cup.
---
With the World Cup on, football mania is at its peak and you want to be part of the action somehow -- through your TV, laptop or mobile. Thanks to seamless digital connectivity, all you need is a smartphone to get your fix of the beautiful game.
Whether applications, games or news updates, there's something for every kind of gizmo geek. Planning to travel to South Africa to watch the action live? There's an app that can help you with that. Want a crash course in World Cup history or brush up your football knowhow? The iPhone app store has something for you as well.
You can even download an application about the much-controversial vuvuzela, which is being trumpeted around the stadia in South Africa. It's available on Apple's iTunes stores and on the Android platform as well. And even though it makes the most annoying sound, the vuvuzela app is among the most downloaded free apps on the iTunes store.
Blackberry users can get into the swing of things as well by downloading World Cup related apps. There are not many games available, but score updates and standings can be easily downloaded on your smartphone. Gamers too can rejoice since there are a host of games developed around the World Cup and football in general. Sales of other football related games also tend to pick up during this season.
Games such as Pro Evolution Soccer and FIFA 10 have always been a hot pick, but they find a new set of followers during the World Cup or the European Championships.
Also check out EA Sports's FIFA app as well as the console game. Popular football websites such as ESPN's soccernet.com and www.goal.com have launched special sites which can be easily accessed on your smartphone.
Even the news agency, Associated Press, has an application on Nokia's Ovi store as well as the Blackberry App World. Blackberry's 'South Africa for Blackberry' notifies you every time a goal is scored, half-time scores, full-time scores and even when players are sent off during matches. Load your phones and consoles with some of the following apps and become a part of the football mania for the next three weeks.
Fifa World Cup: $6.99 (available on iTunes)
EA Sports has some of the best sport- related apps and this one too lives up to its reputation. FIFA World Cup is an addictive game where you can pick a team and go through the excitement of playing in a World Cup.
Challenge: Free (available on iTunes store)
Nike's Challenge is not a World Cup-related app. It's for budding football players or those who want to enhance their footballing skills. It has graphic tutorials from football stars such as Andres Iniesta and Cesc Fabregas on improving your shooting technique and finishing skills.
Waka Waka: Rs 1,299 (available on PS3, Xbox 360)
EA Sports's World Cup for console gamers is delightful. You can pick any of the 32 teams and mastermind their challenge in the virtual world. Get online and compete against your friends as well.

Be up to date: Free (available on the Blackberry App World)
Blackberry users aren't as spoilt as iPhone users when it comes to World Cup apps. However, "South Africa for Blackberry" on the App World is simple, informative and keeps you updated with the latest happenings in South Africa. Another plus, it is a free download.