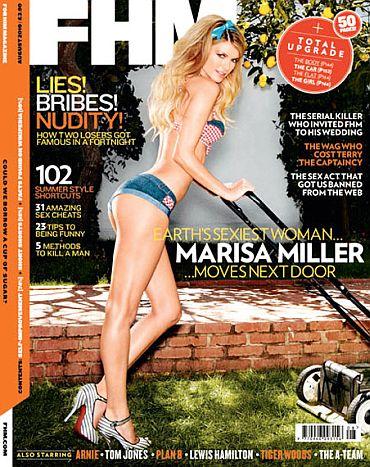 She topped a poll of the most gorgeous women in the world only two months ago and it's easy to see why.
Two months ago, FHM Magazine named her 2010's 'Sexiest Woman on the Planet'.
And now model Marisa Miller is sizzling on the cover of their latest edition.
Posing coyly in hotpants and a bikini, the Victoria's Secret Angel, 31, shows exactly why she managed to steal the crown from underneath last year's topper, Megan Fox's nose.
The poll saw more than a million votes from countries across the world seal her reputation as the most appealing female celebrity.
Besides the cover shot, Marisa is also shown in several sultry poses inside for a summer special photoshoot.
Now ladies, if this doesn't inspire you to whip yourself into bikini bombshell shape, nothing will!
Photograph: Cover of FHM Magazine