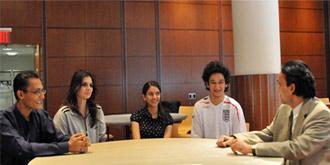 As part of an international student exchange programme, 40 Indian students visited the United States to learn about the various aspects of renewable energy. Rajendran P reports.
Forty students from India visited the United States last month for a programme as part of New York University's India Leadership Exchange Program. The project involved NYU's Stern School of Business and Mumbai's HR College and St Xavier's College.
The 11-day programme, built around the theme of renewable energy strategies, consisted of a series of lectures by professors and industry stalwarts, corporate visits and the presentation of a final project, said Venkataramani Srivatsan, clinical associate professor of economics, Stern.
The students were taken around NYU's sustainability initiative to sensitise the group to the need for trash recycling and Verdant Power, a startup that is trying to generate electricity by using tidal power.
The participating students, many of whom were sponsored because of their excellence in academics and extracurricular activities, started preparations in mid-April, when Srivatsan visited India to introduce them to the course.
They wrote papers on the challenges and issues facing the renewable energy industry in India. The mandate, said Srivatsan, was to come up with a strategy proposal targeted at a particular decision-maker in the private sector, public sector, union minister, state minister and public-private partnerships.
For their final project in New York, the students worked on a micro-hydro project to supply water through small power plants in villages; providing solar-powered lighting in rural areas; combining solar power with biofuel to generate electricity; making jet fuel from ethanol; helping telecommunication firms cut fuel costs by supplementing their energy requirements with photovoltaic cells, among others.
"The consensus was that something needs to be done to supplement our energy needs because India has a 12-per cent gap between demand and supply," said Sagar Pandit, a St Xavier's student.
The winner was a proposal to use an incinerator to clean up Mumbai's solid waste.
Pandit said students in India had learned to deal with a lot of theory. "What we're not taught is how to integrate our knowledge and make it [usable on] the global stage. This programme educated us in that," he added.
Ankit Shingola from HR College said the programme used environmental responsibility well to promote leadership. He cited the case of another HR College student Jyotirmoy Chatterji, an alumnus of the programme, who was inspired to set up Project Chirag to bring electricity to India's villages.
"Professor Srivatsan could have probably taught us the same programme in India," said Pandit. "We're here in New York to absorb all that they've said. If we've absorbed even 5 per cent, the purpose of the programme is achieved."