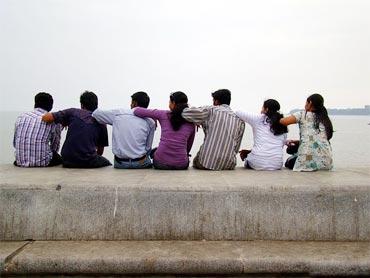 They say truly great friends are hard to find, difficult to leave and impossible to forget.
Most of us would agree wholeheartedly. It's not often that you meet a person who really gets you. That one person who knows you inside out, who will stand by you when things get hard and stick around until the good times come rolling round again.
And so to celebrate the special bond of friendship this Friendship Day (that falls the first Sunday of August) we invite you to share the story of how you met your best friend.
Did you meet in the playground and spend your breaks swapping lunch boxes? Or in college when you skipped class to hang out at the corner sandwichwala? Or maybe it was on a long ride home after a tiring day at work? Tell us your story!
Simply write in to us at getahead@rediff.co.in with the subject 'How I met my best friend' and we'll publish the best right here on rediff.com!
Photograph: Pranil Kerkar