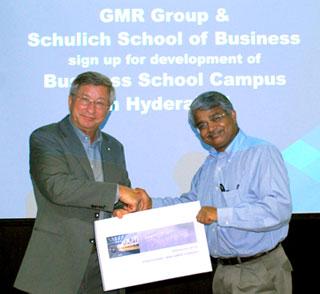 The Hyderabad campus of York University's Schulich School of Business, which will be the first international business school to have a full-ledged campus in India, will be ready by 2013, says Schulich School Dean Dezso J Horvath. 
India's parliament is soon expected to pass a bill permitting foreign universities to open campuses in India, he added.
As part of the agreement between Schulich and the Bangalore-based infrastructure developers GMR group, the latter will provide land for the campus, build it and take care of the logistics (India Abroad, May 14). Schulich is likely to open its doors to the first batch of 110 MBA students for a two-year degree programme in September 2013. The number is projected to increase to 180 in one year, Horvath said.
Joseph Cairn, Canadian high commissioner in India, put Horvath in touch with the GMR group last June. "I liked their CEO V Raghunathan," he added. "I did my homework on the corporation and really liked their philanthropic orientation."
"Our campus in Hyderabad will be a mirror image of Schulich's Toronto campus," Horvath said. "It will operate as a seamless extension of the Toronto campus, ensuring the same high quality of programmes, internationally-focussed curriculum and international faculty."
To ensure quality, he said, "All academic matters -- admissions, faculty appointment, curriculum, etc -- will be under the control of Schulich Toronto."
He said one of the reasons Schulich was looking around the world was that Canada, which produces about 8,000 MBAs a year, is a saturated market. "Canada, with its economy based on raw material and services, doesn't need so many MBAs," Horvath added. "We have largely mid-sized companies... In India, the total number of (MBA) graduates is not more than 5,000. And they need a minimum of 110,000 MBAs a year because the economy is developing very fast."
Most Indian B-schools, including the Indian Institutes of Management, offer diplomas and produce MBAs mainly for the domestic market. "We have been working with all major Indian corporations that are going global," Hovarth added.
"They have told us: don't send only Indian graduates, send Germans, Russians, Africans, Americans, because we want to expand globally. So, we will train these business graduates in India and send them all over the world."
Horvath said the university was planning degree programmes "for mature students, with five to seven years of work experience, and will recruit students from all over the world...I want to bring a global environment to India."
He expects 35 to 40 per cent of students at the Hyderabad campus to be non-Indians. "Latin American, European and other countries have been increasingly interested in the Indian market. So, they want to go to India."
The students at their Hyderabad campus may come to Toronto for the second year because Schulich has over 80 specialisations, Horvath said. Likewise, the Indian campus will have specialisations in fields like information technology, which are India's strengths. So, Schulich students in Toronto can go to India for specialisations too.
The tuition fee will be the same as in Toronto -- around $30,000 annually. "But we will offer many scholarships and bursaries, just like in Toronto," he said.
First Indian link
Schulich's first foray into India was a tie-up with the SP Jain School of Management, Mumbai, where they have nine Canadian faculty and 30 MBA students. These students finish their second year at Schulich's Toronto campus.
Photograph: Schulich School Dean Dezso J Horvath with GMR group CEO V Raghunathan.