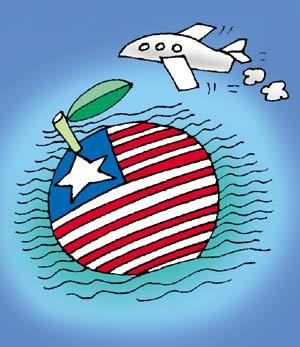 The H1B visa might have lost its sheen in India due to 'dwindling' jobs in the US, but our students continue to flock to American universities and colleges in their tireless pursuit of world-class education and greener pastures. 
Now that top US senators are pushing to make an advanced degree from an American university virtually a passport to the coveted green card, chances are the American embassy in New Delhi will see a glut of student visa applications. But, a majority of students from the North still finds the visa next to impossible due to the 'dreaded' face-to-face interview at the embassy.
"Since we evaluate students on an individual basis, we place much emphasis on personal interview," said the official spokesperson of the US Embassy during the course of an exclusive interview with this correspondent.
Excerpts from the interview with inputs from New Delhi-based United States-India Educational Foundation (USIEF):
The US has always topped as Indian students' ideal study destination. How has your student visa policy changed during the last couple of years?
Our student visa policy has not changed as such and we always welcome all legitimate students. Let it be very clear that there are no quotas or limits on the number of visas we issue from India or any other country. America is very welcoming for international students. It is heartening to note that India contributes more students to US universities than any other country, with over 100,000 Indians actively studying in the US.
Yes, there is one change for students who already have visas and it is in Optional Practical Training (OPT) programme where international students can participate on study completion. For most students, OPT can be for up to 12 months after the completion of their degree. Since April 2008, students with science, technology, engineering or math (STEM) degrees can apply for OPT extensions for an additional 17 months.
It is also worth noting that about 10 per cent of the total international student population in the US took advantage of this opportunity during the 2008-2009 academic years. The US work experience complements their academic work and leads to greater career opportunities as they return home and enter their local workforce.
A lot of Indian students want to study in the US but find it very expensive as compared to other countries. Can they expect any financial help?
While it is true that the cost of a US degree is comparatively high, it is often offset by scholarships and financial assistance provided by American schools. Several students also avail of opportunities to work while in the US.
Moreover, students should look at it as an investment in oneself -- the American educational experience is unparalleled and cannot be reduced to mere numbers. The testimonials from students (visit
www.usief.org.in/Scripts/StudyinUSAMoreonAdvisingStudentSpeak.aspx) stand as proof of that. The US is the mecca for international students around the world, and it retains leadership in almost all areas of human knowledge. This factor will continue to draw students to its campuses.
How has the decrease in US funding for education impacted its overseas education?
Despite the widely reported drop in American universities' endowments, several private US universities and colleges continue to fund outstanding international students at all levels -- undergraduate and graduate. For admissions this fall, students enrolled with the USIEF have received offers up to US$ 53000 per year!
A recent survey has revealed that 91 per cent of Indian students rank the US at the top for quality of education. So, the impact on US educational institutions has not affected funding for international students.
Now that the US has almost come out of recession, will it see an increase in students admissions from India?
As per statistics, there were 103,260 students from India on US campuses in last year. The numbers have been increasing steadily in the past three decades. We expect to see a substantial increase in the future, after a marginal drop last year and this year.
Has the US benefitted from the slump in admissions to Australian and UK universities?
The profile of Indian students going to the US is quite different from those going to Australia and the UK. We do not expect to see a diversion of the student traffic earlier heading to Australia to go to the US. There may be a marginal
increase on account of the slump in the UK, but it is not likely to be substantial. 
North Indian students, in particular, find the face-to-face interview at the embassy quite scary. How would you allay their fears?
Our advice is, no matter what happens, tell the truth. If you lie, it casts into doubt your entire application -- even if you are a good applicant. It's important to emphasise that we evaluate cases on an individual basis. That is why we place so much emphasis on the personal interview.
During the interview students must articulate a credible, coherent plan for returning to their home country. If, after they complete school, students decide to avail themselves of work opportunities in America, they are free to do so provided they follow the law. 
  
What study courses are in high demand in the US leading to a Green Card and good jobs prospects?
Programmes in demand continue to be engineering, business, biotechnology, physical sciences and social sciences. The liberal arts colleges in the US offer extraordinary education opportunities.
Any advice for Indian students thinking of making it big in the US?
Have fun and travel around our country! Make sure you focus on your studies, of course, but don't forget to experience the culture and go exploring. Like India, the US is a huge, fascinating country with an enormous diversity of people, so use your time to have experiences you can't have anywhere else. You only go to college once -- make the most of it. And make sure you invest time in friendships, those last a lifetime.
RMS Atwal can be reached at rajatwal55@yahoo.com
Illustration: Rediff Archives