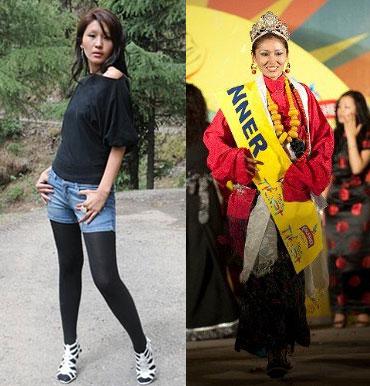 Twenty three-year-old Varanasi girl Tenzin Norzom was crowned Miss Tibet 2010 at the event organised at the Tibetan Institute of Performing Arts (TIPA).
Norzom received a cash prize of Rs 1,00,000.
Four Tibetan beauties vied for the title of Miss Tibet 2010 and put their best foot forward at the grand finale of the contest on Sunday.
Norzom was extremely happy and excited after winning the crown and said that she wanted to do something for Tibet and Tibetans-in-exile.
"It's a wonderful opportunity I got. I will step forward and will do something. I feel great with Tibetans and as a Tibetan, that I performed as a contestant in front of all. I feel good that I won," said Norzom.
Nineteen-year-old Yangchen Metok, who came from Tibet to India in 2008, was the first runner-up, while 25-year-old Rinchen Choden, a hair-stylist based in Bangalore came in as second runner-up.
The titles were awarded after conducting question-and-answer rounds as well as tests of performing arts, where the participants showed off their skills at singing or dancing.
The Director of the event, Lobsang Wangyal, was happy with the successful grand finale of the pageant.
"It was a huge success. It was unbelievable. I am feeling so excited and emotional at the same time, because there were so many people supporting this pageant and although we are in the ninth year, we have only four contestants. Nevertheless, the public is with us and I am so happy," said Wangyal.
The UB Group's Kingfisher brand sponsored this year's contest.