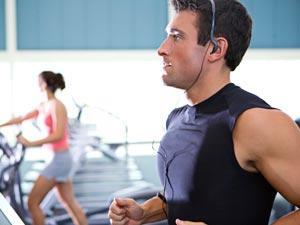 A new, novel way of working out is what you need to ensure that you stay committed to your fitness regimen.
If you've been stuck in an exercise rut, repeating the same old exercises with barely any results, then maybe your body needs to be shocked by something new and different. Cross training workouts offer a class format that creatively combines physical fitness with fun. Almost without exception, professional athletes engage in a wide variety of cross-training exercises when they are trying to improve their game.
What is cross training?
The goal of most athletes is to become stronger, improve performance and avoid injuries. Cross training is a great way to improve overall performance, develop a new set of skills and reduce boredom.
In its essence, cross training refers to a training routine that involves two or more forms of exercise. Changing your fitness routine and training for different activities conditions your body for a higher level of fitness. A well-designed cross-training programme includes a variety of alternating exercises that blend cardio, strength, agility and flexibility exercises into a multi-day workout that stresses different parts of the body.
There are two basic approaches to cross training:
Combining two or more types of activities in the same workout. For example, riding a bike before your run.

Alternating two or more types of activities during the week. For example, running on Monday, Thursday and Saturday, and swimming on Wednesday.
What are the benefits of cross training?
Cross-training can provide numerous benefits for those aspiring to achieve a complete fit body. These benefits include:
Avoid injuries: Cross training allows you to vary the stress placed on specific muscles or even your cardiovascular system, thus giving you a balanced work out. It is an excellent way to reduce the risk of injuries, because you won't be performing the same physical activity daily which puts stress on the same muscles, bones and joints.

Boost fitness: Cross-training allows you to tax your cardiovascular system more thoroughly than is likely with any single activity and does so with less risk of injury. Since every part of your body will receive a workout, cross training will help you achieve a greater level of overall strength, agility, and fitness.

Flexibility: Following more than one form of exercise is an excellent way of bringing some flexibility to your body. If you are including cross training exercises for flexibility, include stretching and warm-ups in your routine. Stretching will help in improving body flexibility and help you relax too.

Reduce boredom: It provides variety, which eliminates the monotony associated with doing the same exercise for a long period of time in the same session. This can otherwise derail your exercise regimen. Adding variety is a sure way to make sure your interest level stays up. Cross training exercises will actually make your exercise time feel like less of a chore.

Maintain fitness when injured: Cross training can help you maintain your fitness while you are injured, as you can still continue to train, using exercises which do not affect the injured area. For example, if your ankle is injured, you may still be able to swim.
How do I start?
Here are a few tips to get you started on your cross training journey:
Make a cross training schedule based on activities you'll enjoy.
Wear the proper gear required for the cross training workout routine.
Cross-training exercise sessions should begin and end with low-level aerobic exercise and stretching to effectively warm up and cool down.
Just try to do something different each day. Running one day, weights the next, then swimming, indoor rock-climbing, spinning class, martial arts, dancing etc. But avoid consecutive days of strenuous exercise.
Combine cross training with running to maximise fitness.
As you search for cross training exercises to fit your goals and desires, you will find a new passion for developing fitness. Life becomes more interesting when enjoyed in different ways.