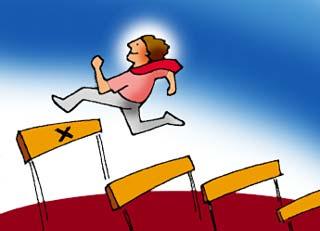 The introduction of the grading system by CBSE has left a lot of parents and teachers confused. In an effort to de-mystify the system, Suresh Kumar (MSc Maths and BEd), currently working as an online tutor with TCYonline.com and an academician with nearly 25 years experience as a teacher in various CBSE schools, discusses how it will work. 
 
What happens when five students in Class X get a percentage above 91 per cent with just a few percentage points  separating the topper from the student placed at no 5? It creates a 'first among equals' situation wherein the student scoring the highest is considered to have scored more than the others, and is ranked first among his peers. It can leave the other four students dejected. The CCE grading system being introduced by CBSE from this year is aimed at curing this malady in our education system.
To give students and parents a clearer idea of what the CBSE grading means, let us take the example of a student who scores 91 per cent overall in a class of 50 students, with the topper having scored 95 per cent. Based on the new CBSE grading system, the student will be given Grade 1 (between 91-100 per cent) and his grade point will be 10, the same as the topper. All the students between 81-90 per cent will similarly be clubbed together in Grade 2 and their Grade Point will be 9. This exercise of grouping together similar scorers will allow students to breathe a little easier and also relieve some of the stress their young minds are under.
 
Students who want to assess themselves after giving the 'Final Summative Assessment' in school can appear for an on-demand proficiency test which is conducted online. For students who are studying in secondary schools (till Class X), the CBSE Board will conduct a separate 'external examination'. It is to be noted that the 'online proficiency test'
should not be confused with the 'external examination'.
There will be no percentages awarded even to the students who appear for the 'external examination'; however, the board will on demand, provide a 'Percentile Rank' to the students taking the external exam. The 'Percentile Rank' will not give the student an absolute rank, and will be reached using a mathematical formula.
To determine  the 'Percentile Rank' of student A, the formula will be: Number of  students below A x 100 / Total number of students  
If a student scores 91 per cent and is ranked 2000th in a batch of 50,000 students, he will not get an absolute percentage but a percentile of 96. Since this percentile is based upon only the number of students taking the external examination and not the whole population of students appearing for Class X board exam, the percentile secured here is not a true representation of the complete scenario. So, even for students who are taking external exams, the scimitar of
percentages will be obliterated. 
The lowest permissible grade for promotion to the next class will be Grade D (Grade Point 4), which corresponds
to a percentage in the band of 33-40. The students will have to secure minimum Grade D in three 'compulsory  subjects' and in two languages (English/Hindi being one of them). The prevailing practice of awarding 'compartments'
and  'fail' will be done away with.
The CBSE Board also proposes to introduce an 'optional' aptitude test which shall be available only online. The test is intended to be used as a tool to decide the educational stream in class XI. Students can also take the help of external tests to determine which stream of education is best suited to their innate talents and temperament.
TCYonline.com trains national and international students for high-end examinations viz CAT, GRE, GMAT, SAT, IELTS & TOEFL.