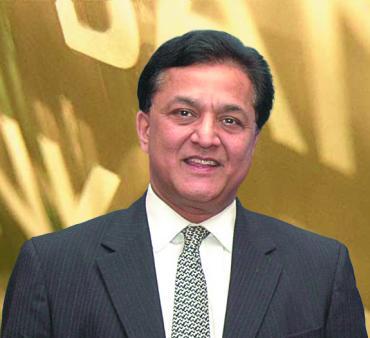 With decades as a global career banker it was not surprising when Rana Kapoor -- along with late Ashok Kapur -- started Yes Bank in 2003. As a tribute to his effort he was awarded Ernst & Young's 'Start-up Entrepreneur of the Year award' in 2005 by an eminent jury. 
What surprised many, however, was within 5 years of its commercial operation Yes Bank managed to build up a balance sheet of 24,000 crore.
However, Rana Kapoor, founder, managing director and chief executive officer of Yes Bank, is leaving no stone unturned to notch up balance sheet of a cool Rs 100,000 crore by 2014.
In an e-mailed interview with rediff.com Rana Kapoor talks about his success mantras, the lessons he has learnt and his advice for young entrepreneurs who would want to emulate him.
What are your success mantras?
I truly believe that sincerity, hard work and dedication, with an entrepreneurial vision, and strong interpersonal and execution skills are the main ingredients to success.
The interesting challenges that you faced in your successful and interesting career and how did you tackle them?
As any start-up organisation would face challenges, Yes Bank also faced the initial birth pangs. The biggest challenge was conceiving the name 'Yes Bank'. The reason behind naming the Bank Yes Bank was because I am of the firm belief that our Bank's differentiation begins with its service and trust mark 'YES'. 'YES' represents the Bank's true spirit of being service-oriented in order to create a truly 'superior banking experience', and today I am proud to say that Yes Bank is steadily emerging as the 'service differentiator' in the Indian banking marketplace.
What does it take to become an achiever in the world of high finance?
My 30 years in banking has taught me that a banker needs to strategically align the vision and strategy with precise deliverables. There have to be short-term, medium-term and long-term objectives and a clear blueprint. A management leader needs skills like problem-solving and informed decision-making.
Moreover, a strong grasping ability to understand people's ideas and be able to harness the best of their capabilities by recognising their contribution and rewarding the same is critical.
Who is your idol and what have you learnt from her/him or the person who inspired/inspires you the most?
Having completed almost three decades in the banking industry, I still believe in a very important philosophy injected by my late father who believed that 'luck is the outcome of hard work and the harder you work, the luckier you get'.
Your advice to young entrepreneurs and those who want to make a successful career working with India Inc.
My advice to upcoming entrepreneurs is that the success you achieve will result from the discipline, dedication and determination that you develop as a young professional. These attributes uniquely shape your character and promote your success throughout your lifetime. It is important to have the courage to dream big, start an institution, have a belief in people and new business models.
The lessons that you have learnt in your successful career as one of India's most influential banker.
I have been fortunate to meet new friends and learned faculty and network with them. I have learnt that it takes a lot of hard work, determination, perseverance and luck to make a successful company.
Institution building as a professional entrepreneur has been the best learning in my career, and my early years at college taught me to believe in myself and in team-spirit. It is important to be humble in victory and cheerful in defeat. I have attempted to ingrain this learning in my life.