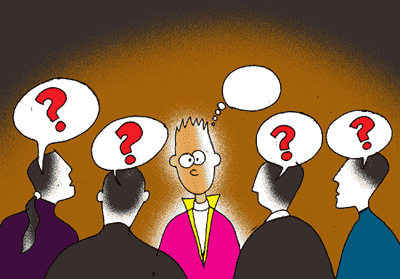 After the written exam, most management institutes invite you for the next stage of the testing procedure, which could comprise essay writing, group discussions and interviews. In fact, almost every institute uses interviews to assess the suitability of the candidate.
So what are the broad topics that you should prepare for in interviews?
There are some questions/ topics that you should be ready to address. These are:
Your introduction
Academics (especially for candidates who are currently in their final year or who have just recently completed their graduation)
Work experience (for candidates who are currently working)
Current affairs and business awareness related questions, to assess whether a candidate is aware of and can speak on broader issues of national or international importance
General questions such as why you wish to do an MBA, your career plans, etc
Your hobbies and interests
Your strenghts and weaknesses
Tips to prepare
In your introduction, try to ensure that you go beyond just repeating some mundane details about yourself. Try and make your introduction interesting by highlighting your unique qualities, interests, aims, etc.

It is important to also highlight your achievements in your introduction, this could impress the evaluators and go a long way in ensuring your success.

You could write down some points about yourself that you wish to cover in your introduction, this will ensure that you don't miss anything and may also aid in a smooth delivery on the day itself.

When preparing to talk about academics, you will need to revise the fundamentals/ basics of the subjects you have studied during your graduation. Application-based questions could also be asked. For example, engineers with an electronics and communication background are often asked the differences between GSM and CDMA and which technology they think is better and why etc. Similarly, a candidate with an economics background may be tested on the relevance of Keynesian theories today, especially in the light of recent global economic developments.

Quite often, candidates are asked about their favourite subjects and are asked questions on these. So think about which subjects you are ready to answer questions on!

For candidates with work experience, the panel could ask you about the company in which you work and your role, as well as your firm's major competitors, the industry in which your company operates in, etc. Plus, be prepared for questions on recent developments in the industry -- such as large M&A deals, etc.

Whatever your background, I strongly suggest that you read a newspaper every day. This will go a long way in helping you answer questions pertaining to GK and business awareness (besides helping you in the GD/ essay writing round as well (if any)).

For questions on your career goals, strenghts and weaknesses, hobbies, etc ensure that you do some introspection and above all, be honest! Do not invent some hobby or strength just to impress the interviewer. Try and think about these questions -- remember that if you mention a particular strength, you may be asked to justify it by providing an example of when you actually demonstrated that particular strength.

I suggest you read about the MBA course before the interview. If asked a question such as "Why MBA?", you could speak about the subjects that you are interested in or how the methodology used for teaching the course interests you -- the use of case studies, 'live projects' with companies, the summer placement experience, interactions with people working in the corporate sector through guest lectures, etc.

Finally, it is a good strategy to practice for the actual interview by undergoing a couple of mock interviews and seeking feedback. You will find that practice helps you improve your responses and provides you indicators on which areas you need to prepare better.
The author, an alumnus of IIM Calcutta, is an MBA preparation expert and has been involved in MBA coaching for almost six years. He has also written the best-selling 'An Introduction to CAT-Tips from an IIM Alumnus' published by Pearson Education. He can be contacted at bsiddharth_2001@yahoo.co.in.
Illustration: Dominic Xavier