Suman Guha Mozumder listens to Sachin Pilot, one of India's young ministers, at the Wharton India Economic Forum on Saturday. Photograph: Paresh Gandhi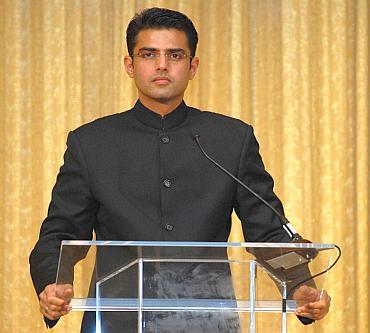 Sachin Pilot, the Union minister of state for communication and information technology, says it is a greatly positive sign for India that the country's young people have of late started taking a tremendous interest in participating in the political process.
Delivering a keynote at the 14th Wharton India Economic Forum over the weekend, Pilot said it is very clear that the number of people taking part in the panchayati or other local or municipal bodies in the past four five years, is phenomenally higher than ever before.
"I think as India's economic architecture is changing so is the demography and the young people across India are getting much more involved in taking on the challenges facing the country," he said.
"I think the change has already begun to happen. Thanks to the Congress party in the last four or six years, scores of young people, who have for the first time went to state assemblies and parliament, are making an indelible impression on the minds of people (and it is important) to create a space in the hearts and minds of the Indian electorate. But I think far many more young and educated people need to take part in the political process," he said.
"The Congress party has to be given credit for this. It is just not tokenism. We are putting young people in the front ranks of politics and in the next half a decade much more of this is going to happen," he said.
Pilot felt that not everybody has to become a politician, but one needs to be involved in the system and hold the leadership accountable and make sure that there is more transparency in the system.
He was one of the four keynoters, the others being Praful Patel, minister of state for civil aviation, Aditya Puri, CEO and managing director, HDFC Bank, and Subhash Chandra, chairman Essel Group and founder of Zee TV.
Pilot, who is an alumnus of Wharton and connected easily with over 500-strong members of the audience, most of them Wharton MBA students and Indian Americans, was by far the most popular among the keynoters. People wanted to shake hands with him and waited patiently to hear his views one on one on a variety of issues, including the problems and prospects of India, whether or not older politicians were putting their own interests before the interest of the country.
"I think it is not fair to paint everybody with the same brush. There are more than 40 political parties in Parliament and there is a consensus among all parties that all of us will have to work for the betterment of the people as a whole and focus on verticals as such. If we unleash the potential that young people have and give them a platform to display their capacity, their skill sets and creative energy that is enough," he said.
Pilot was blunt in his response when asked if only young people only from political families can come to politics and whether they have an edge over others.
"Being from a political family ought not to be a disqualification by itself. I agree that it helps you to get your feet to the door but beyond that it is up to your performance, your capability that counts, and if you are not up to the job, no party or voters are going to re-elect you," Pilot said amid cheers from the audience.
Pilot, who in his address noted India's progress, especially how the information technology services has started helping deliver public services in the most effective manner and will empower people with knowledge and information as well as to markets, said that today's young people in India are much confident and have faith in themselves, in their society and in the country and in every sphere than they had some 15/20 years ago.
"It is only a metamorphosis that is going to grow bigger and bigger. All we have to create is an environment so that their ideas and skills can be translated into practice. I am confident about India and its economy. If we all make collective effort and become stake holders in the country's growth and development, it is going to happen and India will become an envy of many nations," he said.
The day-long session at Wharton had more than 12 discussions, including one on entrepreneurship, on education and employment, and on globalisation of Bollywood. The speakers at the Bollywood session included actors Anil Kapoor and Vidya Balan, composer-singer Shankar Mahadevan and film director Rakeysh Omprakash Mehra.
"The interest in India among our students of both Indian and non-Indian origin creates the tremendous excitement and energy surrounding this annual forum," said Anjani Jain, vice dean and director of graduate division, the Wharton School.
He noted, while moderating the main discussion: Breaking Boundaries, the challenges that India must overcome to regain the rightful share of the world's prosperity that most of the questions that he was going to pose to the panelists, had originally come from students.
'Past forums have focused on how to move India forward as a nation, to define and deliver on its incredible potential and the responsibilities that come with it. We tried to take this discussion a step further and explore India's ability to surpass constraints and expectations,' the conference chairs, that included five students, said in a note.