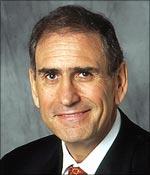 The issue of racial incidents at Ryerson University, Toronto, was brought up at the kick off dinner for the Ted Rogers School of Management's seminar on India on April 21.
Adam Kahn, vice president, Ryerson, said a 12-man task force recently released a 107-page report on the incidents. "The report said there were (racial) incidents," he told India Abroad. "We have 36,000 students, which is the size of the city of Orillia, so there are bound to be some racists... but to say there's racism at Ryerson is ludicrous."
Kahn said the university had 900 international students, many of them from India, and a diverse population of local students. He added that minor incidents had "been blown totally out of proportion" by the media.
The report, that took one year to complete, took into account 'incidents of racism and hate-motivated activity, as well as systemic practices that disadvantage identifiable groups of students, staff and faculty.'
'Ryerson should adopt a mission statement on diversity and inclusion, declaring itself to be an inclusive university,' the report suggests. 'An office of Equity, Diversity and Inclusion at Ryerson should be established... to implement the diversity and inclusion vision.'
The report also recommends creating a senior position to bring these inclusive policies, procedures and practices in line, training of senior staff on racism and an annual survey of the race and backgrounds of all students.
Kahn said the university agreed with the recommendations.
"Our students are very well organised and student leaders are from visible minorities," said TRSM Dean Ken Jones. He said such racial incidents had taken place at York University as well.
Zaker Khan, a student at TRSM for six years and project manager for their upcoming seminar, said he was shocked to read about the racial incidents. "I have never experienced a single racial incident," he said. "We have students from India, Pakistan and elsewhere, and I can say that the media is blowing minor incidents (out of proportion). People are looking for a story and I believe it is clearly an over-reaction."
Photograph caption: Adam Kahn, vice-president, Ryerson University, says there are bound to be some racists among the university's 36,000 students.