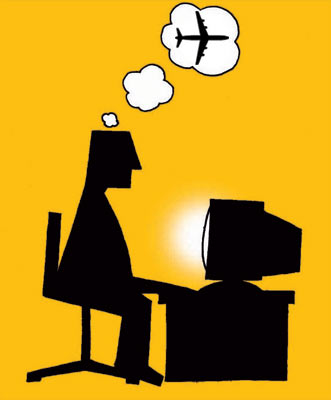 Following the success of Canada's Students Partners Program for India, of  late there has been a steep rise in student visa applications for that country. But, the Canadian High Commission in New Delhi is ever vigilant against 'fraudulent documentation' which is reported to be the highest from the Punjab region.
"The programme is not only about approving visas, but about controlling fraud, so we are working very hard in association with Canadian colleges. Students need to be aware that they (not their agents) are responsible for the contents of their application."
This was stated by David Manicom, Minister-Counsellor, Citizenship and Immigration Canada (head of Canada's immigration programme in India) during an exclusive interview with RMS Atwal.
Excerpts:
How successful has Canada's Students Partners Program been since its launch last year?
At this stage, we consider the Student Partners Program (SPP) to be a success, but we are only in the second year. It involves only high-quality government-funded community colleges belonging to the Association of Canadian Community Colleges. The colleges advise us about which students issued visas are actually in attendance and this information helps us manage the risk associated with any such programme.
The number of applications has increased significantly, and the approval rate is higher. The programme is not only about approving visas, but about controlling fraud, so we work very hard in close cooperation with the colleges to do that. The number of colleges in the programme has increased for 2010 from 20 to 38. There is also a high approval rate for those attending Canadian degree-granting universities, which are not a part of the Student Partners Program. Those applying through SPP and to universities do get priority processing, but we try to ensure all applicants get a quick response.
How is the slump in Australia and UK admissions affecting students' migration to Canada?
The intake of applications to Canada has been rising sharply -- we are likely to receive about three times the number we received two years ago. But that rise began before the current situation with the Australian and UK programmes, and is also the result of the increased presence of Canadian institutions in India, the promotion efforts of the High Commission and the Canadian education sector, and the Student Partners Program.
We are getting an increase at all levels, from trade schools to PhDs. So it is difficult to determine the impact of the UK and Australian programmes -- probably there has been some.
Is the Canadian High Commission extra-vigilant in issuing student visas in view of the high incidence of fraudulent documentation from north India?
We have no evidence of a rise in fraudulent documentation in Northern India. Unfortunately, there has always been a fairly high rate of fraudulent documentation in all of our visa programmes, but we do not have data showing any increase. We continue to strengthen our capacity to detect fraud.
Applicants for Canadian visas need to know that if we detect fraud or misrepresentation we will refuse the application and the applicant will be inadmissible to Canada for two years. Students need to be aware that they are responsible for the contents of their application. It doesn't help to say "my agent submitted the false document".
By the way, there is no requirement to use an agent of any sort. All applications are assessed individually on their merits, and all the information and forms needed to apply are on our website.
Some Indian education consultants flouted the English requirement for foreign study. Your comments.
What is important from our point of view is that students are able to meet the language skills requirements of their programme of study. If they can't function in English (or in French in some cases) in the classroom, so as to master their course materials, they are unlikely to be genuine students. We take considerable effort to ensure they can.
Can students' migration to Canada be more streamlined by having a body of the High Commission authorised agents, on the lines of AERRI of Australia?
There is a tick-sheet on our website with a short list of required documents. If you send us those documents, with the forms and fee, or submit it at any one of our Visa Application Centres all over India, a visa officer in the High  Commission or in our office in Chandigarh will assess it within a few days. The large majority of applications are finalised within three weeks, even including medical results, and many within one week. We don't think it could be any more "streamlined". It's very simple. We assess applicants, not agents.
Does the Canadian government welcome Indian students' desire to join its workforce following study completion?
They are most welcome, if they do so legally. If they do so illegally, they will be subject to deportation. International students have the right to work to varying degrees and for varying periods during and after their course of studies.
Details are available on the website at CIC.gc.ca or through the international education office at the college to which you are applying.
For those who wish to remain in Canada longer, and become permanent residents, we have a special immigration category called the Canadian Experience Class. It's not an automatic grant of permanent resident status; there are several selection criteria and an application process. Again, for details on which education programmes help you qualify to apply, the Citizenship and Immigration website at CIC.gc.ca has all the information.
How do you see Canada as a study destination five years from now?
International education is a high priority of the Canadian government. The trend is growth, but we want to manage this growth carefully with rigorous anti-fraud and quality assurance work to ensure those coming to Canada to study are
genuine students, whose study in Canada will be a triple win situation: for the student, for Canada, and for India.
Five years from now, the number of international students from India will be higher than today. How much higher? I would need a very good astrologer to say!
Any advice for Indian students seeking a Canada study visa?
Focus on finding the right education programme for you. Do plenty of research on the Canadian government website about education at https://www.educationau-incanada.ca/index.aspx?lang=eng, and on the site of Citizenship and Immigration Canada at CIC.gc.ca, and on the websites of schools which interest you.
It is about the right education first, and about getting a visa second. Then read the documentation requirements on the web site of our offices in India, at http://www.canadainternational.gc.ca/india-inde/visas/study-etudier_canada.aspx?lang=eng, and provide clear, truthful documentation.
Apply at least one month before your classes start. And beware of agents or consultants who charge big fees or promise visas. Whether an application is submitted by the student  themselves or via an agent or consultant they receive identical processing at our office. 
(RMA Atwal can be reached at rajatwal55@yahoo.com)