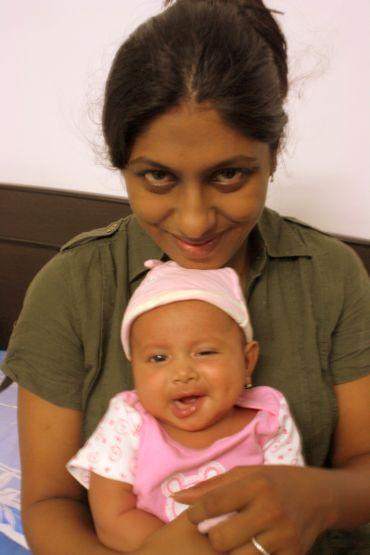 Yesterday, we brought you the first part in a series that explores the dynamics of interpersonal relationships with the advent of online social networking. Today, Abhishek Mande speaks to another youngster to analyse how online interactions are influencing lives.
You may have read news reports of Farmville becoming the most popular application on Facebook. Manasi Nikhil knows why. The 30-year-old marketing and communications manager, employed with a posh suburban hotel in Mumbai, is usually logged on when she isn't working. On a regular weekday, she spends about an hour and a half on the site -- 30 minutes in the morning and another 60 when she returns from work at night. But when she's at home, her usage shoots to a drastic 5-6 hours. A good part of this time is spent on Farmville.
"Barely hours before I went into labour, I was on Farmville. Once I even called my doctor and asked him if I should expect any action in the next six hours or so. The moment he assured me that I wouldn't, I logged onto Farmville. When I went into labour I was thinking of Farmville! I even asked my husband to water my plants. Farmville really has gotten the better of me," she laughs.
The communications professional adds that her updates got more frequent during the last month of her pregnancy, simply because she had nothing better to do! She points out, "I have been hooked onto Facebook for the longest time and usually update my status messages on an average of four to five times a day. But when I was at home expecting my baby and had nothing else to do, I would update my status almost every half hour. If I could feel the baby kicking, it was on Facebook. If I felt a craving for sugar, it was on my Wall. If I wanted to know about losing weight after delivery, all my friends would know about it too. These were things I would have wanted to share with or ask people about over the phone. But since most people I knew are working, I couldn't obviously call them up in the middle of the day. During my pregnancy, Facebook became a window where information was exchanged at everyone's convenience."
Manasi says she has over 1,015 friends on Facebook, all of whom she knows personally. "I don't add random people as friends. If they are part of my contacts, it is because I know them or have interacted with them at some point. Besides, I constantly keep editing my contact lists or deleting people who I don't want to be in touch with. I find it necessary because I don't like unwanted people as my friends."
Ask her if she's got her two-month-old daughter an e-mail account and she quips, "I am just about to actually register her on Gmail! I'm also planning to create her Facebook page. It's always good to start early!"
Manasi's tips for Facebook users:
1. Do not add unknown people to your friend list.
2. Be discreet in choosing your display image.
3. Do not add applications without knowing what they do or how they access your information.
4. Never display all your contact details.
5. Sort all your contacts into lists, to ensure that you know them well and give them access rights accordingly.
Do you have any social networking anecdotes to share? They could be funny, grim or simply bitter-sweet. Tell us all about them. Write in to getahead@rediff.co.in (subject line: 'My Facebook story') and we will publish the best ones right here!