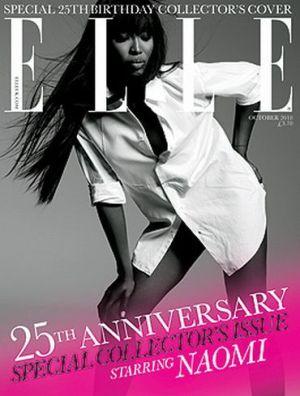 The supermodel first posed for Elle when she was 15 and now, at 40, she proves that she's still got it.
Naomi Campbell has graced the cover of Elle magazine -- 24 years after she first appeared on it.
In an interview with the mag, the 40-year-old catwalk queen said that she's a domestic person who shops for her food and still washes her own underwear.
"It's the way I was raised. They were my chores. If my mum or grandmother told me to do something, I did it," the Mirror quoted her as saying.
The complete interview is published in the special 25th Anniversary 'Limited Edition Collectors' issue of Elle Magazine, which is already out on stands.
Photograph: Cover of Elle Magazine