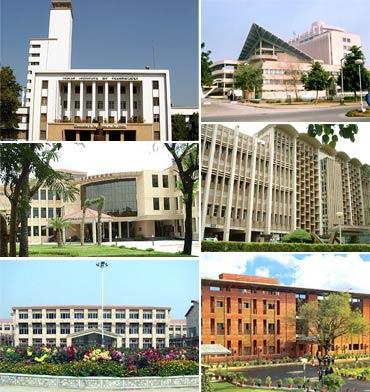 Four out of seven Indian Institutes of Technology (IITs) have slipped in the QS World University Rankings this year against last year. QS ranks 500 institutions across the world.


IIT-Bombay, which has been ranked the top most among 10 Indian institutions, fell 24 places to 187 this year. It was ranked 163 last year.


IIT-Delhi, too, slipped 21 notches to secure 202 position against 181 last year, while IIT-Guwahati fell from 401 to 501 this year.


"We see these rankings as feedback of how others see our institution. While these rankings do not really impact our behaviour as an institute, we will have to look into the factors which led IIT-Bombay to fall from the 163th position to 187th," said Professor Devang Khakhar, director, IIT-Bombay.


IIT-Madras, on the other hand, climbed 22 positions to reach 262, against 284 last year. IIT-Roorkee too climbed 50 notches to reach 401, against 451 last year.


While IIT-Kharagpur secured the 311 position after figuring at 335 last year, IIT-Kanpur fell 12 places to 249 position, against 237 last year.


"The number of Indian institutions in our rankings has fallen, as has their position. IIT-Delhi has fallen out of the top 200. By contrast, China now has 10 universities among the top 500 and a further six from Hong Kong. The IITs are a vibrant part of Indian academic and business life, but the country's conventional universities are weak for a nation of India's importance," said Martin Ince, convenor of the Academic Advisory Board for the QS World University Rankings.
Other than the IITs, the University of Delhi and University of Calcutta have fallen 80 and 100 notches to stand at 371 and 501 positions, respectively.
The University of Mumbai and University of Pune, however, have managed to retain their earlier slots at 451 and 551, respectively.
Internationally, Cambridge University has pipped Harvard University to secure the first rank. Harvard University has topped the table since 2004. "The University of Cambridge was voted the best university for research quality, as selected by over 15,000 academics around the world. Although Harvard was the most popular among the 5,007 employers polled globally, Cambridge edged ahead overall," said the QS press office in a media statement.
While Yale University stood at third position, the University College of London secured the fourth position and the Massachusetts Institute of Technology climbed from ninth position last year to fifth this year.
"Given the uncertain economic outlook, it is reassuring for students that the Top 200 universities are also, by and large, the most popular universities with employers, suggesting that a world-class degree remains the best path to a great job," said Ben Sowter, head of research at QS.
QS rankings seek to measure research quality, employability of graduates, teaching commitment and international commitment -- all key missions for world-class universities.
QS rankings use a combination of global surveys and audited data including citation counts from Scopus, the world's largest database of academic publishing.