Careers in hospitality: Food production
Last updated on: January 21, 2010 16:50 IST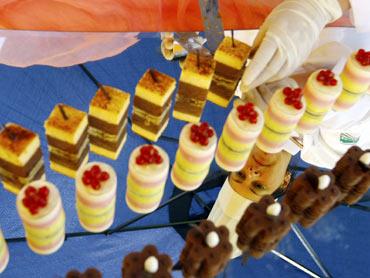 Food production, as the name suggests, is about making food, and has three sections: Bakery, which is making bread and cakes; even chocolates and confectionary items like candies. Speciality Kitchen, where cuisines such as Thai, Mughlai, Japanese, South Indian are made.
Cold section, were salads and delicatessen (cold meat cuts) are served. Choose from these three based on your interest and aptitude. Passion, passion, passion is what you need to be a chef, says Manisha Bhasin, Senior Executive Chef, ITC. "That alone will tide you by both good and the notso-good times." Going up from junior Sous Chef to Senior Chef takes 14 to 15 years provided you are good. Yes, it's competitive and will give you grey hair, but if you are good and focused then you could be a celebrity at a young age too says Bhasin.
So, if being a chef is your be all and end all, then a professional degree will stand you in good stead. Education plays a critical role in this profession. A diploma is essential, but a degree course is better. Because with a BSc in hospitality course you can bypass the Commie stages and join as kitchen management trainee (KMT) and start cooking, thus saving three or four years of the grind. Food Production graduates are absorbed as KMTs and trainfor almost two years before becoming Chef de Partie, the stage after Commie 1.
Part I: 2.03lakh trained professionals needed
Part II: Careers in hospitality: At the front desk
Part III: Careers in hospitality: Housekeeping
Not just cooking
Last updated on: January 21, 2010 16:50 IST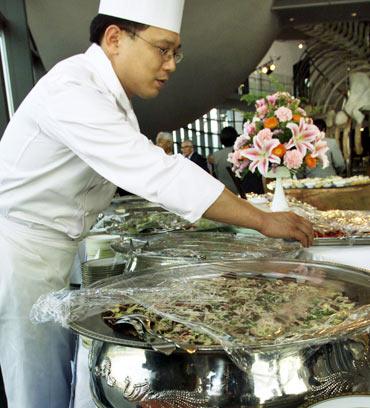 Chefs make food but it's a myth that they only make food. They do much more. They are thinking, ideating, creating and managing people. "We are managers as well as cooks!" says Bhasin. In fact, she is a green belt in Six Sigma; it's a course that helps in running an error-free operation, she says.
Cooking is one part of the work. Right from cutlery  placement, to table layout to maximising business, the chef's got to do it all. Of course, product development is an important part of a chef's life. "We have to keep making the food exciting at all times, which is a challenge."
Bhasin says that one also has to see the profitability part of the business. "We sit with menu designers; decide the placing of the food items, there's a lot of science and thought that goes behind this."
In fact, chefs sit with restaurant managers, look at the monthly business reports and then together decide on how to improve the business. "So you have to come up with innovative promotional concepts such as Sunday brunch," says Bhasin, who set up West View at the ITC Maurya Sheraton.
Strange as it may sound, a chef has to have a good business sense, as well. "We multitask and not many are aware of it!"
Put your best dish forward!
Last updated on: January 21, 2010 16:50 IST

Of course, there's glamour to the job, but that comes much later, when you have toiled in the heat, the grime, and the fumes for 10 hours every day. Chefs are like actors on stage, creating an act that if clients like, will get applauded!
So remember, says Bhasin, that when you are not cooking for your guest, you are still being watched. "You are being watched by your colleagues, your junior staff."
Therefore, at all times put your best foot forward, or rather your best dish forward!
Experience says that when you have learnt to smile and apologise to an irrational client you are ready to be a chef. So keep that ego in a pickle jar back home.
"In this industry, you should be prepared and ready to do anything. There are many who are reluctant to wash utensils, but I tell them to wash their utensils to wash away their ego," says Bhasin.
And when the going gets tough, when you are about to burst like a pressure cooker, then "peel potatoes, it is therapeutic!" Bhasin guarantees.
When the ego's out of the way, it's only you and the food that you are making and that's what adds the magic to the dish. People come to restaurants or hotels for good food. If the service or the ambience isn't as good, people migh keep coming, but if the food is not good, then it's time to shut shop, says Bhasin.
In the end, it's all about good food.
If you are hard working, love your work and can make food even on tired legs, welcome to the kitchen! Bhasin says that while one should have a basic sense of taste, it's only over a period of time that one develops a sense of taste.
'If you want to be a chef, be a trendsetter'
Last updated on: January 21, 2010 16:50 IST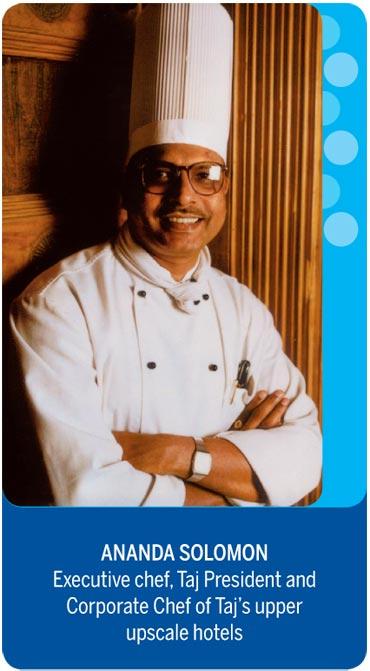 Solomon's interest in food started at an early age as each member of his large joint family had to give a hand in the kitchen. And he believes in the simplicity of food. "I stay away from molecular and processed food." Among other things, Solomon says that young people should be prepared to enter the industry with their eyes open!
So tell us chef, what ingredients go into making a good chef ?
An understanding of the nuances of food, how to buy meat and vegetables, how to cut meat and vegetables, good communication skills... Well, there is a lot that goes into making of a chef and much of it comes with experience.
Working as a chef is all about creativity, fun and discipline.
So would you rather take someone fresh to work with you, or someone with professional training?
If you are raw then cracking the industry can be a little tough. It's important to have some kind of prior training. In fact, I would say to those keen on a career in food production that they should check out the facilities before enrolling in colleges. Look at the kitchen; see if the kitchens are well-equipped. Meet the faculty. Find out if the faculty have had industry experience. Because that's how teachers can prepare students for the rigours of the industry!
I would also say, find out how many practical classes are held in a week and for how long. In my view, there should be at least four practical classes in a week and each class should be of four to five hours of duration. But, of course, cooking is one part of becoming a chef.
'There's nothing called a difficult customer'
Last updated on: January 21, 2010 16:50 IST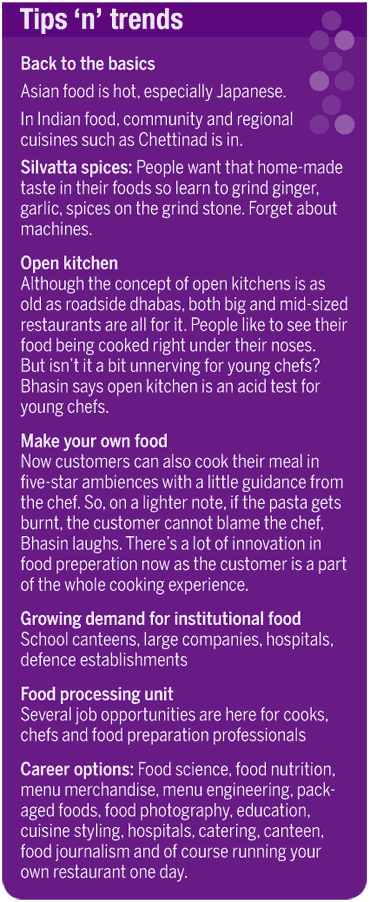 What are the other parts to a chef ?
You have to be familiar with the commercial side of the profession, be involved in product positioning, pricing, do cost analysis, but above all be a good manager. But nothing will work without passion.
So, passion is the key ingredient...
If you are keen on a chef's career, then passion is what you need. It's not a desk job where you sit all day.
But it's also a profession where you come across people who can act difficult...
There's nothing called a difficult customer. Every person is a wonderful opportunity to be served and looked after. Remember you are dealing with people, not vending machines. After all, you have to create opportunities to increase footfall. You don't become a great chef in a day. It takes perseverance and passion! Of course, for that you need nerves of steel and you should know how to cook good food.
And remember, above all, you have to be a trend-setter to make a mark for yourself in this competitive field.