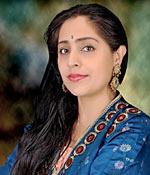 On the occasion of Women's Day we asked women acheivers from various fields to share their experiences of being a woman in a 'man's world'. Here Bhavna Chauhan, ex-army officer and author of 'Where Girls Dare', shares what it was like to be a woman in the Indian Army. 
Girls in the Army -- the very mention of this statement achieves what botox does. An instant eyebrow lift. Army is the last standing male bastion, not only in India but universally.
India started enrolling women as officers in the year 1992. At present, the cumulative strength in the three services is around 2,000 with the Army accounting for nearly half of that number. These are mainly in the non-combat streams like signals, ordnance, engineers, education corps. And plans are on to upgrade and expand women's entry further.
A lot of people ask me, how did it feel to be a girl in a totally man's world? To be honest, after a while, that doesn't register. It is like any other organisation, only more disciplined, organised and with a great value system in place. With a lot of stress on equality and ethics. Women are a minority element, strength-wise. But having said that, the Army has taken admirable, significant steps to integrate women into its fabric. Yes, the numbers you have to get used to. Period! You just get over that fact and get on with the job.
Training is a crucial factor in establishing a common ground for the girls and boys both. Military training at the academy kind of throws all your pre-conceived notions out of the window and re-introduces cadets to a wonderful concept --uniformity. From day one, you are training and brushing shoulders with your male counterparts, following similar routines, same dresses codes (even haircuts) and same struggles. The word 'uniform' begins to take on a totally new meaning and you see each other as comrades and colleagues. You will find that message come across very strongly in my novel 'Where Girls Dare' where the GCs and LCs approach each other with a certain wariness that transforms into a healthy respect and friendship as they train and struggle together.
Mindset is another important issue, especially of the troops. Indian troops are from traditional, conservative, rural backgrounds and don't accept lady officers that well, right? Wrong. That is the biggest myth ever. My experience taught me that troops take time to observe you, your behaviour, your skills and then exhibit such a devoted sincerity and pride that you are left feeling humbled. It finally doesn't matter to them if you are a lady or a man, what matters is the fact that you are the officer leading them, taking care of their welfare, sanctioning their leave. Like one of them candidly pointed out to me 'Ma'am, what matters to us is the officer, the rank and that is not gender-specific'.
I remember when I was a newly commissioned officer and joined my regiment. I was the first ever lady officer in a regiment whose history dated back to the seventeenth century. The troops, comprising Marathas and Sikhs primarily, had never seen a lady in uniform. Genuine questions about training, curiosity about terms of service (they always want to know if you're also getting pension) cropped up, but a month of working together and all those notions went poof! I never ever felt that I was a girl in a man's world.
So, the age-old axiom works -- actions speak louder than words. Don't get intimidated by the numbers. Do your job and do it well. The Army is a great organisation and girls are here to stay.