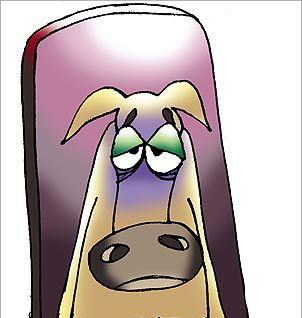 We recently discussed airline bloopers and invited readers to share their air travel stories with us. Here, reader Sudipta Kiran Sarkar shares an amusing experience. Illustration: Uttam Ghosh
I am an academic in tourism and work in Malaysia. When I go back to India for holidays, I normally have to fly via Singapore or Bangkok as there are no direct flights (up until last month) from Kuala Lumpur to Kolkata, my hometown.
This was in December, 2007 when I was going back to my hometown for Christmas/ New Year holidays. As flying via Bangkok was cheaper and tickets were available, I chose to take that route. The trip from Kuala Lumpur to Bangkok was perfect, leaving me with no idea that the flight I was to catch next from Bangkok to Kolkata would be one of the worst experiences of my life.
The transit time between the two flights was not much, so after I reached Bangkok I quickly moved on to the Gate from where I was to board the flight for Kolkata. On reaching the hall where the gate was, I got to feel the 'warmth' of my fellow countrymen -- chaotic, noisy, a number of handsome pot bellies and already a long, inconsistent queue even though boarding had not started. It seemed to me that I was in UP or a Bihari town, as the gentlemen made no hesitation in using the filthiest foul words in Hindi.
I was initially confused trying to figure out where the queue ended and I decided to stand after some people towards the end of it. All of a sudden, I saw a couple of the handsome pot bellied gentlemen walk past me and try to stand in the space in front of where I was. When I tried to resist, their body language and some murmuring in Hindi gave the impression that I was the one who showed utter impoliteness in not maintaining any discipline. I decided to let it go, as I was more interested to reach home.
Then the gates opened and everyone's reaction was as if the plane had only free seating (which was definitely not the case, as the airline was not a low-cost one). When I reached the counter where the officials would check my passport and boarding pass details, one gentleman behind me with overwhelming arrogance shouted at the lady official in Hindi, "Arey, kya check karna yaar? (What is it you need to check?)". The lady official ignored him, as did I.
We then boarded the aerobus that would take us to the plane; it felt like a local town bus in North India in terms of the chaos and mess similar to the one noticed at the departure gate. On reaching the plane, I tried to find a luggage space above the seats to keep my handbag. There was none and the spaces stuffed with enormous volumes of luggage which looked as if they would soon fall on my head. In fact, the cabin crew of the airline had a tough time finding me a space to keep my handbag and they finally advised me to put it in the leg space. I felt quite disturbed with the way things had gone, but consoled myself that it was only a matter of a few hours.
My despair was far from over. There was a kid sitting next to me in the aisle seat and his parents, who were sitting in the middle row, would often come and open the luggage space to get something from their luggage, creating disruptions in the in-flight services of the cabin crew. While dinner was served to me, these activities continued to cause inconvenience. When the cabin crew suggested that they could come later to collect stuff from the luggage, the kid's father yelled in Hinglish, "What is the problem, I have to bring down important things from my luggage!" and then yelled at me in Hindi "Itna kya farak padta hain yaar!" I was overwhelmingly surprised. But finally, the fiddling with the luggage stopped and the last one hour of the journey was peaceful.
But the fun didn't end there. The plane landed at Kolkata airport and began to slow down gradually, but it was still too early to start getting up. A few of the passengers got out of their seats and began to take their luggage down even though the seatbelt signs were still on. The cabin crew, who were also seated, had to get up from their seats, stop these people and persuade them to get back into their seats. So they started telling each other in loud voices in Hindi, "Aur kya baitha rahenge...kitna sara saman hain, utarna hain na..." and then verbally abused the cabin crew in Hindi. I laughed quietly to myself and thought that this flight from Bangkok was quite an experience indeed!