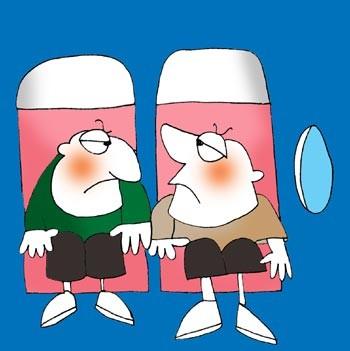 We recently discussed airline bloopers and invited readers to share their air travel stories with us. Here, reader Richa Fernandes shares her experience. Illustration: Uttam Ghosh
We Indians are known to be uncouth, mannerless and an indisciplined lot, but my experience on an airline left me thinking otherwise.
I was travelling to the UK by Emirates Airlines. The first leg of the journey went without any adventure -- maybe because it was a pre-dawn flight and almost all the passengers just wanted to settle down and catch a few hours of shut-eye.
The next leg of the journey was from Dubai to Manchester. A majority of the passengers on this flight were British, with a few of my countrymen too. However, what amazed me was the behaviour of these British passengers, who never miss an opportunity to point out the tardiness or lack of manners of Indians.
There was an elderly British couple sitting in the row in front of me. Once the flight was airborne, the staff started serving drinks. This couple gulped quite a few of the drinks. As the flight was a long one and I was tired, I dozed off. However sometime later I heard the sound of someone throwing up. I opened my eyes and watched in disgust as this elderly gentleman was throwing up in a plastic cup in which he was served the drinks. He threw up and kept the cup under his seat. Again he had a drink and after sometime he threw up again in the plastic cup. This continued throughout the journey.
There were other British passengers too, travelling with their kids and the amount of mess they created was quite amazing -- and to think, we Indians are always accused of not having civic sense. While these eminently honourable passengers were littering the aircraft and puking away to glory, apna log were politely waiting for the crew to meet their requests, and as always, they were served last. What amazed me the most was that inspite of the litter being thrown around and the puking by these passengers, the crew were at their beck and call and catered to them first, instead of the Indian passengers who were actually on their best behaviour.
Finally, when the flight landed at our destination, on my way out I noticed the litter all around and felt that I was getting off some general compartment of a passenger train in India, rather than an aircraft -- that too of one of the most reputed airlines, Emirates.