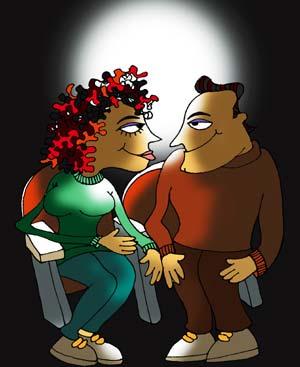 We recently discussed airline bloopers and invited readers to share their air travel stories with us. Here, reader Hari shares his experience of finding love on board a flight. Illustration: Uttam Ghosh
I have a trading business in China, so I often travel from China to India for work. Since there is no direct connection from Beijng to Chennai, I normally fly Thai Airways. These two incidents took place on my last trip to India (February 2008).
The flight started from Beijing to Bangkok and as can be expected, there were many Chinese passengers travelling on board. And they were a group of more than 25-plus all going to Thailand for a holiday. Since I speak Chinese, the passenger sitting next to me asked me to help him translate for the airhostess in English to make sure he was not served red meat, as he is allergic. I obliged and did the same. Seeing this, many of his other friends also started asking me to be their transalator. I had no option but to oblige, as most of them were old people. But I couldn't even relax for 30 minutes without their interference.And finally, when they landed in Thailand, they didn't even bother to say thank you. I was like, whatever. And my Bangkok-Chennai flight was a pleasant one.
But the return journey was the best. Enroute from Chennai to Bangkok, I was sitting next to an Indian guy who was decent, but literally consumed as much alcohol as he could, as if Thailand was a no-liquor state. Then, on my Bangkok to Beijing flight I was on the aisle seat of the middle row, but since a family wanted to sit together they asked me if I could move to another aisle seat. The passenger assigned the window seat had not yet come, but I moved in since the family had kids. But a couple of minutes later, in came a pretty woman and sat next to me. I said to myself God has been kind to me after all that alcohol I had to put up with!
This girl was Chinese and was going back to Beijing after a holiday in Thailand. We both started off talking normally, but later we found it kind of weird that we had a lot in common and we exchanged phone numbers, keeping in contact even later. I never believed it when people said marriages were made in heaven, but I guess ours was fixed a little below heaven. Now both our families have agreed and we are engaged. Planning to get married in July 2010. I just wanted to share this part of my life with everyone, just to show that not all flights are annoying after all. Would be glad to know if anyone else has had this kind of experience.