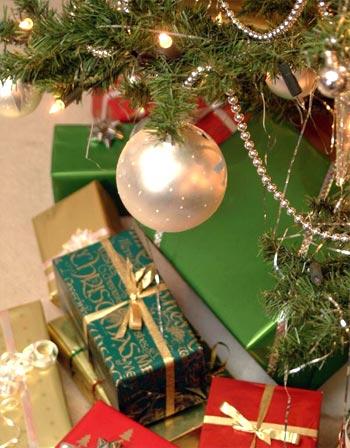 Shifra Menezes shares her Christmas wishlist with us -- and you can too! Photograph: Rediff Archives
Christmas is a great time of year. The holidays, the sweets, the presents and the general good cheer are intoxicating. And what's Christmas without that jolly ol' man with his fluffy white beard? Not much, I say. The image takes me back to long-gone days when I would pen down my heart's desires and ask Mum take it down to the post office and mail it to the North Pole.
That seems a lifetime ago. Now at the age of 28, there's no time for a call to the neighborhood grocery store, leave alone a letter to figments of imagination.
But what would I wish for if I did happen to write that letter? What could it hurt to just put down five things that would make my day?
So, here's what I'm putting in my letter to Santa this year:
A shiny, red Ferrari
Or Maserati or Lamborghini... I am willing to compromise. And of course it's on the list!
Yes, I know Indian roads aren't ready for these mean machines. Yes, I know I could not afford maintaining this little beauty. Yes, I know I probably would have to let hubby dearest drive it ever so often. But it stays on the list!
Of course, there a hundred other extravagant things I'd wish for -- everything with an Apple logo on it, a villa on every continent, a free ticket to anywhere in the world forever -- but when it comes down to making a choice... the Ferrari wins every time!
The perfect dessert
Now I must admit I'm not too picky when it comes to dessert – if it's sweet, I'll eat it. And I'm the first to cite reports that cite research studies that suggest that chocolate is good for you – all the while knowing that downing an entire Cadbury bar in one go was definitely not what the researchers had in mind.
So, Santa if you're reading, please bring me a lifetime's supply of dessert that is low-calorie, low-fat and most importantly, sinfully delicious.
An extra hour in the day
Okay, now that we have the major stuff out of the way...
As a new mum, I never seem to have enough time. Every minute of my day is accounted for -- cleaning, rinsing, wiping, dusting, powdering, cooking, feeding and teaching. So I wish for one more hour in the day -- to pick up that book I always meant to, to update my iPod with the tune I heard on the radio the other day, to go for a long drive and plan for coming year.
Nuclear disarmament and world peace
Now what wishlist would be complete without this one? I think I'll add a quick-fix solution the climate change issue as well. And a cure for AIDS and cancer and starvation deaths... this is going to be one LONG letter!
Instead, let us all wish for leaders with wisdom. Or better yet, let us DO our little bit to spread the joy, all year round.
Happy holidays, dear readers!
Oh yeah, and while I'm wishing for stuff, Santa please throw in a winning lottery ticket. Just for good measure!
What are you wishing for this Christmas? It could be anything -- small, big, realistic, fanciful -- but do let us know! Share your lists on the message board below!