As part of an ongoing series, we bring you another excerpt from Mumbai-based chef Zubin D'Souza's Khana Sutra: An Aphrodisiac Cookbook.
Part I: Passionate Nibbles
Part II: Love Bites
Presented here is an excerpt and recipe from Chapter 10: Sensual Endings.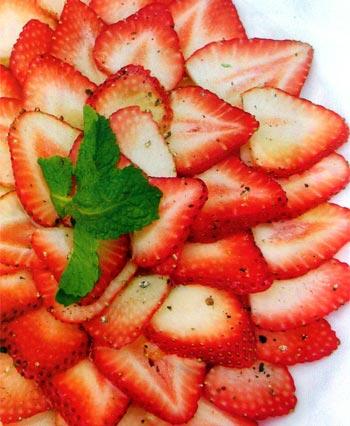 Beriyon ka thal (Strawberry and honey dessert)

Although present-day India boasts a large annual turnover of the strawberry crop, significant large exports to several parts of the globe and some of the largest strawberry farms in Asia, the fruit itself is a rather recent entry onto the local horticultural and culinary scene. The British were the first to plant these crops in the country and ever since then, it has become a major cash crop for several farmers.

Although the fruit was not grown in the country, its significance was known from the Middle-Ages, when riders and traders were sent to the furthest outreaches of the realm to procure these exotic fruit for the sovereigns.

This is a simple yet eye-appealing dessert.

Ingredients:
Fresh, ripe strawberries: 300 g
Lemons: 2 nos
Honey: 30 ml
Black peppercorns: A pinch

Method:

Wash the strawberries and gently pat them dry with a paper kitchen towel.

Slice the strawberries very thin lengthwise and arrange them flat on a plate in a circular direction, do not overlap them. The resulting pattern would resemble a flower. Cut the lemons in half, discard the seeds and squeeze the juice over the sliced strawberries. Drizzle the honey and crush the peppercorns in a pepper mill and very lightly sprinkle this over the sliced berries. Refrigerate and serve chilled.

Excerpted from Khana Sutra: An Aphrodisiac Cookbook (Rs 250) by Zubin D'Souza, with the permission of publishers Jaico Publishing House.

Click here to buy Khana Sutra from rediff Books!