We invited Get Ahead readers to share rainy-day recipes with us -- pakoras, samosas and every other kind of tasty preparation that has you smacking your lips during the monsoons. We've been flooded with responses and as part of an ongoing series, present two recipes that you can make this season.
Indira Tanwar sent in two recipes. First up is how to prepare Baingan Ke Pakore: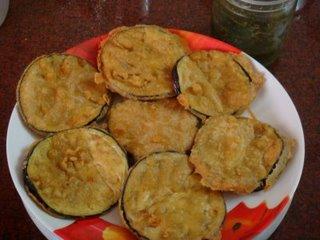 Ingredients:
1 large egg-plant
Besan
Red chillie powder
Black pepper
Coriander powder
Water
Oil for frying
Method of preparation:
Chop the egg plant horizontally into circular slices.
Prepare the besan batter like we do for any other pakoras by adding salt, all masalas and water to it.
Heat cooking oil in a frying pan.
Coat the egg plant pieces in besan batter from both sides and deep-fry.
Serve hot with green chutney or tomato sauce.
Next is how to prepare Bread Upma:
Ingredients:
10 slices brown or normal bread
2 mediums onions
1 tomato
2 green chillies
Fresh coriander
Curry leaves
Mustard seeds
Raisins
Groundnuts
2-3 tbsps oil
Red chillie powder
Black pepper
Coriander powder
Salt
Method of preparation:
Crumb the bread into small pieces with your hands.
Chop up onions, tomato and coriander leaves finely.
Heat oil in a pan. Add mustard seeds, curry leaves and green chillies.
Next, fry the chopped onions till they are slightly browned. Add groundnuts and raisins. Saute for another 2-3 minutes.
Add tomato and coriander leaves. Add salt, red chillie powder, black pepper and coriander powder.
Add the crushed bread to the pan and mix thoroughly. If you feel that the mixture is too dry, sprinkle a little water on it. Cook on a low flame till the bread is cooked properly.
Serve hot with tomato sauce.
And here is a recipe for Chivda from Kavitha Lokesh:
Ingredients:
Cornflakes
Rasam powder (readymade, not homemade)
Groundnuts (as per your requirement)
Curry Leaves (as per your requirement)
A few pods of garlic (optional)
Salt
Oil
Method of preparation:
Heat the cooking oil in a deep pan.
Fry cornflakes on a medium flame and set aside in a bowl.
Fry groundnuts and curry leaves next. Smash the garlic pods and fry them as well.
Add salt, rasam powder, fried groundnuts, fried curry leaves and fried garlic to the cornflakes and mix well.
Your chivda is now ready to eat and can also be stored in an airtight jar for upto a week.
Do you have any special monsoon recipes that you'd like to share with us and other readers? Simply write in to getahead@rediff.co.in (subject line: 'Monsoon Recipes') with instructions on how to prepare lip-smacking rainy-day foods and we'll publish your recipes right here on rediff.com. Make sure to include your name, age and hometown and try to come up with the hottest, tastiest snacks you can this rainy season.
We're smacking our lips and waiting, so write in right away!