Hailing from a Goan family, Zubin D'Souza has been born and brought up in Mumbai. However, he did return to Goa to study Hotel Management and soon realised that his forté lay in the kitchen. Having started his career with the Oberoi chain of hotels, he has travelled all over the country. He also has the distinction of working at the Le Meridian hotel in Hong Kong. With 15 years of experience under his belt, Zubin is now a corporate chef with Encore hotels.
His latest book, Khana Sutra: An Aphrodisiac Cookbook, is a compilation of aphrodisiacal recipes that he collected on his travels across the country. From housewives to palace chefs, everyone had something to contribute! In a chat with Insiyah Vahanvaty, Zubin talks about how he went about researching his book, the fact that he is now embarrassed by it, and his own favourite recipes.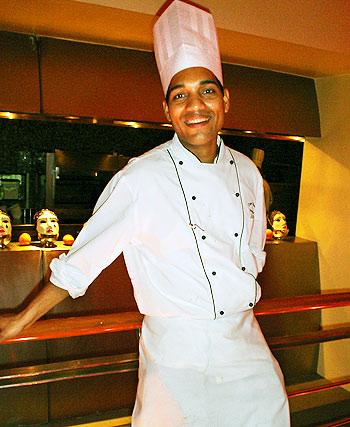 How did you go about researching the book?
In 1999, I was travelling around India, doing research for another book of recipes, that hasn't yet been published. Actually, I quit my job to travel, because I had spent years cooking all kinds of cuisines, except Indian, and I wanted to explore Indian cuisine.
So I was in Ajmer and I met a guy who was the cook for a royal family. We ended up talking about plenty of things, including aphrodisiacal foods and what the 'Master' likes -- which is where the idea germinated from. However, you'll notice that the book does not mention any names of people who contributed these recipes, because people are not comfortable with others knowing that they rely on aphrodisiacs. It's the same logic that propels people to buy Viagra in brown paper bags.
So I continued my travels, travelling around India, mostly on bicycle, and continued researching aphrodisiacal foods and how they are used in different parts of the country.
But what one needs to understand is that food is not like a drug -- it won't perform miracles, but it will definitely get the person in the mood. Aphrodisiacs are mood enhancers, not necessarily libido enhancers. Food is very sensory and sensual, and it usually acts as a relaxant. Some foods do this better than others -- chocolate, for example. Why do we gift chocolates on Valentine's Day? Or why do you have chocolate edible underwear or body paint? It's the most luxurious and sensual food.
From which parts of the country have these recipes come from? How did you get people to divulge them to you?
Oh, from lots of people around the country. In fact I found a lot of recipes that contain drugs as well, but I haven't incorporated them in the book. For example, in Varanasi, you get these paans called palangtod. It's a sweet paan, dipped in cocaine water. Now, since cocaine is a big-time aphrodisiac, you can guess why it's called palangtod.
Some recipes have come from housewives, cooks etc. It was a tricky subject to approach -- I had to become friends and wait for a few days before asking. Often I stayed with them for a few days before broaching the subject. A lot of Indian women have never experienced an orgasm -- they don't even know what it is. Sex in most of India is a male driven act, with no thought given to the woman. And the woman doesn't miss it either, because she has never had it. Her concerns as far as sex is concerned are two-fold: "Is my husband satisfied?" and "Will I get a son?"
Now in the early days, men often went to nautch girls for the whole seduction of the dance and tease. Indian housewives couldn't compete with that, so how did they ensure he didn't stray? They fed him aphrodisiacs and went to bed with him before he went out to the nautch girl. Since the man had just had sex, it was unlikely that he would spend the night with the nautch girl. Not many other cultures spend so much time scheming to keep their men from straying. It's in this context that all these recipes have evolved.
Now when I think about it, I can't believe I actually went and did all this research! And if I see the book in a book store, I'm too embarrassed to even acknowledge it! There have been times when I've actually walked out of the store because I saw my book on display.
Are the recipes scientifically proven?
Well, it's not something that can be proven. Imagine if your partner cooks you a lovely meal, serves it with wine, white linen, roses, music...now what is the part that seduces you? Is it the look, feel, smell, taste, or the attention you're getting? You can't separate these things, so 'proving' this is not possible.
How long did the research take?
I travelled for eight months and collected the recipes then. But I had also spent 8-9 years just talking to people and I finally put the book together a year or two ago.
Is this your first book?
I've been published before too -- about 15 years ago. It's a book on Goan cuisine, but I thought it was quite sh***y, so I've revised it and hope to get it republished soon. After that, my second compilation of recipes called Veda was put out in the USA a few years ago.
I also have about a dozen manuscripts that are ready. There's another book on Goan food, and one on Yogic and Ayurvedic foods, to name just two.
What are your favourite recipes from the book?
In life, I'm a dal-roti kind of guy. From the book, I like the Smoked Sandalwood Soup, Quail Samosas, and Stuffed Anjeer, which I can attest really works, trust me! I totally recommend them!
Was it a struggle to get published?
Yes, it was. I approached so many publishers only to be turned down, then badgered Jaico Publishing House, who finally published it after rejecting it a couple of times. The book was published nearly two years after Jaico acquired it.
How have your family and friends reacted to the book?
My family has been very supportive and happy about it, but I'm a very shy, stay-at-home kinda guy, and this book has really embarrassed me. I almost can't handle it -- I can't deal with it when my mother calls me up and asks about some recipe from it, for instance. Or the thought that someday my five-year-old son will grow up and understand what the book's all about. Even now, when I see it in bookstores, I walk away from that section -- I almost don't want to acknowledge it. And my wife hates the idea that I wrote this book -- she wants to know where I did the research from (chuckles mischievously). But I wrote it because it was all inside me, and it had to come out.
What are your future plans?
Cook more and write more!
What do you do when you're not cooking?
I love cycling -- I cycle to work in Mumbai, 20 kilometres everyday. I also love watching movies -- I can vegetate and watch movies for 36 straight hours, the only sign of life being my blinking eyes.