Father's Day is on June 21, and we asked readers to send in their special messages for their fathers. In
response, we have been flooded with touching, sentimental messages that celebrate fatherhood. Here are some of the messages we received:
---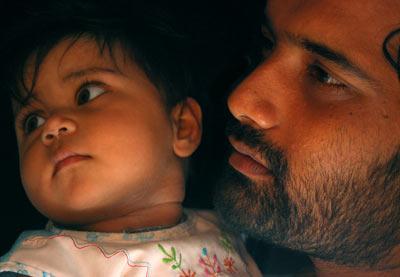 Akhtar Shaikh 
sent us this photograph of daughter
Tehsina
with him.
If all you proud daddies out there would like to share photographs of your little darlings on Father's Day, please e-mail us at getahead@rediff.co.in. Share your wishes, hopes and dreams for your young one and we'll feature them right here on rediff.com. 
---
In memory of my dad Joseph Sebastian to whom I would like to tell that I'll always love and miss him.
Dad so many images come to my mind.
Whenever I speak your name.
It seems without you in my life,
Things have never been the same.
What happened to those lazy days,
when I was just a child,
when my life was consumed in you,
in your love and in your smile.
What happened to all those times
When I always looked to you,
No matter what happened in my life
you could make my grey skies blue.
Dad some days I hear your voice.
and turn to see your face,
yet in my turning, it seems
that sound has been erased.
Dad please always know that I love you
and noone can take your place.
Time may come and go
but your memory will never be erased.
Oh dad if I could turn back time
and once more hear your voice.
I'd tell you that out of all the dads
you would still be my choice.
-- Marcella Joseph
---
Like everyone's parents, my parents too were very caring and nice.
My father was very responsible and calm. He was like a friend, used to play with us and help us doing our homework. But when he is angry and loses his temper, we would get it nicely. It happened very rarely and I am the only one who got most from him.
My father ran away from his house (Nellore, AP) to Chennai to join the Indian Air force as his mother was against him joining the Air Force. He sent a letter back home after he got selected. He wanted to have a better life and was very much interested in Armed forces. He was good at English and sports and that was one of the reason he got selected. He was in 11th class when he joined IAF and that was end of his studies.
We are three brothers, my elder and younger brother are very good at studies, I was not bad but I used to get distracted very easily and could never concentrate for more than 5-10 minutes and that's what used annoy my father most.
He used to take three of us on a bicycle to school every day and back home, a distance of 14-15 km. And if it's a movie or circus show it was five of us on a bicycle (including my mother).
During winter we couldn't go out and play, we used to play at home and dad used to part of team most of the times. He was very good at chess and all of us learned it from him.
He was very hard working and always wanted all of us to settle well in life. I guess he had no other ambition.
My father always got appreciation because of my elder and younger brother from class teacher but not mine.
Whenever he used to come to school because of me it used to be for wrong reason. Either I would have failed in a subject, beaten my fellow student, broken something, or damaged something in school. Many times he has told my mom, "I don't know when he will learn."
He knew I was different kind of guy and would like to be in my own world and he used to explain to me very patiently and encourage me. Many times he used to feel bad that he is not able to give all that we asked for. There used to be a waiting period for any big items that we had to buy. We had to wait for six months for our first Bat (signed by Azhar) and one year for a bicycle. He used to put a condition like if we pass with good score he would give us and he always kept his promise.
I remember it was my Hindi teacher Sashi Prabha madam at Air force station school, Bareilly UP, who used to say very positive things about me and she was the only teacher I suppose. She told my father that he is intelligent but only problem is that he gets distracted very easily and that main reason for his poor show.
After my 10th results I was very keen to join IAF but my father was against it saying he doesn't want his son also to be an Airman. He has no problem if I want to become an officer but not Airman. He did not post my application for AIRMEN Selection. Most of my friends who applied got selected. I was very depressed but he sat with me and explained.
I took science stream, and I failed in +2, I was scared to face my father for two reasons -- my younger brother got very good marks in 10th and my other brother got admission in MBBS. All the officers congratulated my father and he used to feel so proud of it. I was so tensed and didn't know how to face my father. My mother informed dad, he came and scolded me for some time and did not speak to me for few hours and before dinner he spoke to saying, "This is not the end. American president Bill Clinton also failed when he was in school and he is US President. I know you are good, maybe you chose the wrong stream, I am not so educated to help you decide your stream. There are lots of opportunities and it's just that we have to choose right path." He hugged me and said he was confident that I would come up in life. I was in tears and cannot forget that conversation we had.
He didn't want me to sit idle at home and re-appear for my +2 sitting at home. He joined me at APTECH. Fees was over Rs 22,000, nearly 2 months salary. After taking the admission he told me just one thing which changed my life completely. He said "As a father I will always be there to support you whatever you do or want to become, but financially may be I cannot do more than this." I was in tears and felt it was most painful year of my life. But that's when I realised that I wanted to succeed.
I am not sure if I met his expectation but I can for sure tell that I didn't let him down.
With God's grace and blessings of my parents I am well settled in life working in MNC and going to complete my MBA next year.
I am a father now and believe me, my daughter is 10 times naughtier than I used to be. I don't say this, it's my parents who say this. I wonder how my parents used to control me.
-- Sudhir Kumar
---
First, I want to wish happy fathers day to my papa. My papa means a lot to me. I cannot express my love to my Papa in words. In our culture we love our parrents, but as I belong to an Oriya medium school I have never said to my father 'I love you, Dad', as they do in Hindi movies. I love my dad a lot. Most of the people cannot say how much they love their father, even most cannot express their love like me.

At every moment of our life someone stands by our side, who supports us, even when we are wrong he likes to save us, so that we do not repeat the mistake.
I want to share some of my personal facts, when I was in 8th class I made a mistake in my school and my father was called by the school principal. My mother said to change the school but my father let me learn in that school and to learn from my mistake to overcome it. I learnt the hard way and become the topper in all the next three years.
When I did not get a rank in IITJEE and in AIEEE my father give me courage and supported me. I have rememberd his words "Did all the one lakh students who prepared for it get a rank, the world does not end today. God may have kept success elsewher, go and find it." I changed to commerce, it is my father's faith which gave me success. I became the college topper in commerce.
Throughout life, fathers sacrifice for their children, and yet never want their children to sacrifice a little happiness for them.

I love you Papa.

I hate those who do not love or like their parents. Many children after marriage call their father budha (old man). How your father can become a old man, why are you ashamed to call him Papa.

Some people tell their father not to intrfere in their married life and just to take meal and sleep. How can a person who has headed the family for so many years be quiet?
-- Amaresh Raut
---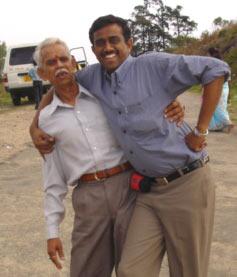 Thanks for everything, Dad.
-- Rajeeva
---
Our dad is our mentor, friend, guru, he is everything to me and my brother. We love you dad, he has been a great inspiration to us.

-- Harsha and Ashok


---
Dear PAPPU,
Just wanna say I LOVE U very much and I'll fulfill all ur dreams.

Sometimes we quarrel a lot but that is a relation which none of my friends share with their dads. In fact I can share all the things with you rather than mom which is exactly the opposite of all other daughters.
Happy Fathers Day!

-- Tejal
---
To Dad with love,

He was indeed a very special humble human being in my life. I am blessed to have him in my whole life. My father was a pillar of love, care, strength, emotion and above all full of energy. I learned a lot and I still feel his presence where ever I am. Since 1996 upto day and each moment I see him and his aura is felt.

Above all, no matter where we live a father is a father. I miss him and love him. Dad where ever your soul is present, you are great.
Love you dad!

-- Vivek
---
If you would like to share your messages, memories, photographs and videos write in to getahead@rediff.co.in
with the subject line 'Dads' and make this Father's Day one your dad will long remember.