Father's Day is on June 21, and we asked readers to send in their special messages for their fathers. We also asked dads to share photographs of their little darlings on Father's Day. In
response, we have been flooded with touching, sentimental messages and photographs that celebrate fatherhood. Here are some of the messages and photos we received:
---
Those Little Feet
The sound of the rain woke him up and his feet walked him out to embrace it. His skin glowed with the touch of every raindrop and the smell of the earth made him smile. He had to get out and drench himself silly in every watery decent of the clouds above. Nature was his first love and this was one of his ways to live.
His heart rejoiced at the sight of his daughter. Her laughter was his lullaby. Her presence was his prayer answered. Her dimples were his eye candies. Her hugs and kisses were his peace. He loved his coffee and enjoyed his untimely forty winks on the couch. Simple things made him happy. The child in him was always alive even in times of adversity and strife. He smiled his way into people's hearts and his eyes sought love, friendship and happiness in every aspect of his daily routine. The earth was his playground and he loved his world.
He was a genius with an unmatched memory, an avid reader who doubled up as his journalist/ novelist wife's best critic, a spiritual wanderer who knew where God resided, and a connoisseur of many fields - literature, sculpture, history, geography, mathematics, and astronomy, among others.
His little feet carried him through many a gruelling grind, to the most magnificent of ancient architectural masterpieces, to the banks of almost every Indian river, to the depths of the thickest forests, to the homes of his countless friends and finally to the stairs of heaven.
He redefined simplicity. He was always there for anyone who needed him. He ensured he visited everyone he knew in every neighborhood that he passed through. He would do anything to make others happy. And along his adventurous and arduous journey, he unwittingly ensured that there could never be another of his kind. He gave me wings and the will to dream. He is always around and his little feet's number is the best track I'd ever hear.
Take care, Dad. Happy Father's Day.
-- Praveen Chakravarthy
---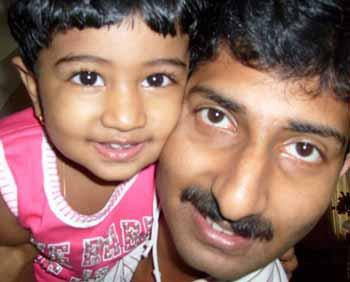 GA reader Dinesh M sent us this pic with his daughter Neha.
---
Papa,
Please accept my regards as this is my first message in my life to you.
I miss u so very much. Though, I am far from you but I think of you every moment. I Love you, Dad.
Happy Father's Day!
-- Somil, Lori & Atharv
---
Well, I really am a loss as to how and from where to begin about my father. If there is to be one person who can be compared to God, it was him. No sacrifice seemed big for him as he did not consider it as something he is parting with, on the contrary he would be feeling happy by thinking about the happiness the receiver would have got.
He never nurtured any ill will agianst anyone and even his dreams also never imagined to harm anyone, be it the person who would have caused the ultimate harm to him.

He was always so content, never did we notice him demanding anything in life. Such strong human values, unconditional love for every one.
Alas, he is no more with us, but we have realised his greatness after he left.

And now our belief that GOODNESS ALWAYS PREVAILS has been strenghtened by seeing all his children and grandchildren turn into good citizens, so well settled in life. How content he must be, where ever he is to see this.

May God Almighty bestow him with all the peace and joy and impart some of his qualities in his children and grandchildren so that the world may become a better palce to live in.
-- Virendra Sahdev
---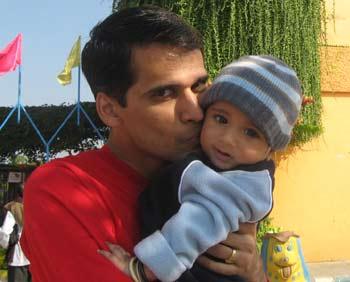 Haresh Vala sends in this photograph with son Hriday.
---
Dear Papa,
We love you very much and respect you for what you are. You mean so much to us that we cannot imagine a day without you being besides us.
Every time you scolded us it was always for our well being and secure future. You sacrificed for us unrelentingly so that we could grow up with the best in us. Your caring and loving gestures always keep alive in our minds, in all our moments.
On this Father's Day, which also happens to be your birthday, we heartily wish a Happy Father's Day & Birthday!
-- Silky & Deshu

---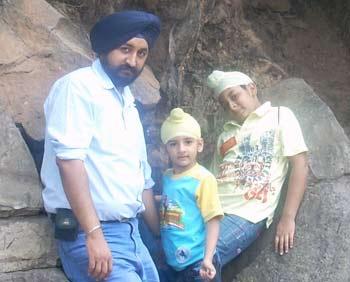 Gagnish sends in this pic with his sons.
---
If you would like to share your photographs, messages, memories and videos write in to getahead@rediff.co.in
with the subject line 'Dads' and make this Father's Day one your dad will long remember.