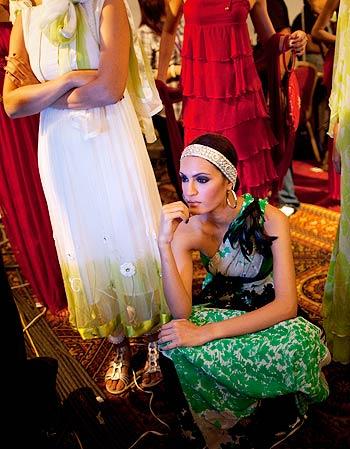 With models strutting down the catwalk in couture fashion that was elegant and racy, the Pakistan Fashion Week showed a completely new and different image of the nation where burkas and hijabs are not uncommon.
The four-day extravaganza kicked off at the luxury Marriott hotel in Karachi on Wednesday with an opulent opening ceremony, in defiance of the Taliban's preference for strict adherence to modest Islamic veils.
As Pakistan's army battled religious extremists in South Waziristan, Karachi's top designers showcased their creations in an unusual display of skin in a country where most women cover up.
The event -- originally scheduled for October -- planned to introduce designers and models from abroad, but the fragile security situation left organisers counting on local talent.
Western evening dresses fused with Eastern design, rich embroidery, silk tunics, feathery hats, lacy tops, along with radical interpretations of the traditional salwar kameez, all floated down the catwalk.
Sonya Battla, the first designer to show, presented a collection that she said celebrated strong women.
She dismissed the fact that in more conservative parts of the country, her designs might get women driven out of town or stoned to death.
"I'm a very brave woman. I'm not going to be scared and no one's going to judge me," the Telegraph quoted the 38-year-old designer as saying.
Taliban militants have killed more than 300 in the past month in a bloody campaign of bombings and assassinations. But despite the carnage, the fashion world was determined to stage its shows.
"There's so much more to Pakistan, it's not just suicide jackets and Al-Qaeda. It's defiance, sheer defiance. This is about saying, "They're not going to threaten our lifestyle." We want to show the world that we're survivors," said Rizwan Beyg, a leading designer.
Image: Model Nadia Hussain, wearing a creation by Pakistani designer Samar Mehdi, sits amidst others backstage while awaiting to take the catwalk during Fashion Pakistan Week in Karachi.
Photograph: Adrees Latif/Reuters