Oxford and Cambridge are synonymous with foreign education for thousands of Indians. Despite the USA taking over as the number one choice, for the 31,000 Indian students who went to the UK last year (2008), an English education in law, sciences and management still holds its allure.
One-year degree
A big advantage of studying in the UK has always been its one-year Master's programme, says Sally Goggin, director, education, British Council India and Sri Lanka. In other counties such as the US and Germany a Master's degree takes at least two years. You also have the option of doing a Master's programme in combination with a PhD, which saves an additional year, points out a student from Bristol University.
The assurance that the UK degree will get students a job, anywhere, the quality of teaching, and of course, a multicultural society are other reasons why Indian students still continue to come to the UK. The possibility of working there for a year, at least when you study cutting-edge subjects, is another attraction.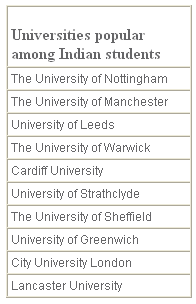 Making education affordable
High tuition fees and cost of living have deterred many students from applying to the UK, and incentives of partial scholarships and part-time work opportunities in American and Australian universities have had more students applying to these countries. For example, Shikha Kapoor preferred going to the US as chances of getting campus jobs and assistantships were better and this helped her pay part of her tuition fee.

Shashank Shekar Tiwari, who is pursuing a PhD in Leeds as a Welcome Trust Fellow, counters."'Next to USA, the largest number of fellowships, especially for India, is in the UK. One has to move beyond the Chevening and Commonwealth programme and look at different trusts and college-level bursaries," he elaborates. The UK is making education attractive to international students by reviewing the fee structure.
Finding merit in vocation
Experts argue that there's going to be a shift in the education structure in the coming years. The focus will shift from general academic courses to vocation-oriented courses. At the moment, there's a clear divide between academic education and vocational training, but that might change says Goggin. 'More and more academic courses will have a vocational perspective.' The reason is that the future workforce is going to come from vocational colleges and not from the top 10 universities.

A Chennai-based education counsellor says it is unfortunate that many students studying at the best of the universities have no clue of the kind of job they want after completion of study it is good enough that they are studying in good universities. But when they graduate, often little of what they have studied helps them find a job. Though there are examples of degree courses with vocational use such as retail or nutrition, there ought to be more of these.
Borderless education
In fact, quite a few UK-based vocational colleges and universities are partnering Indian institutes to give that foreign experience and a global perspective. Under the UK-India Education Research Initiative (UKIERI), there have been tie-ups between Indian institutes and colleges in the UK in area of financial and creative industries. For example, the Indian Institute of Foreign Trade (IIFT) has tied up with universities such as Newcastle and Leeds Metropolitan.

But Anup Arora, who's keen on studying in one these colleges, wonders if Indian employers are familiar with the names of these institutes, and the advantages of such tie-ups. "You will be surprised that many Indian businesses are aware of the partnerships with the UK," says Goggin.

But students should be aware that under the Indian legislation the degree that is offered by the India-based foreign universities is a single degree and recognised. However, if the student travels to the main campus of the foreign university to finish part of the degree that is being offered at the India-based campus, then the student gets a joint degree, one from the UK and another from India.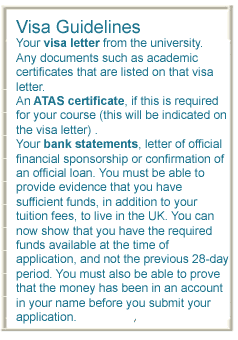 Working part-time is easy
Living in London, one of the most expensive cities, in the world is costly. The cost of living, including rent, in London would be GBP900 and in places farther from London, between GBP500-600. But it has come down in times of a global meltdown, says Goggin.One of the reasons for the renewed interest in the UK has been the opportunity for part-time work, which wasn't the case earlier.

The advantage foreign students have in the UK is that they can work both on and off campus, unlike the USA where students are allowed to work only on campus. In the UK, students are allowed to work 20 hours a week, however, one should keep in mind the commitments or demands the course makes on you cautions Goggin. The minimum wage has gone up to GBP5.80. Usually students do get jobs that pay GBP6-8 an hour. Therefore, a student can earn between GBP480 to 650 a month, which is decent enough to take care of monthly expenses.
 
Chicken Tikka in the UK
Parents don't have to worry about food in the UK. It's a country whose national dish is chicken tikka masala and samosas are sold in local stores. The streets are dotted with Indian restaurants run by Bangladeshis, Indians and Sri Lankans. Spices, pickles, papads or papadoms, masala, dals and basmati rice, everything is available in local stores. But you can easily budget by buying fresh vegetables from the farmer's market as their vegetables are usually cheaper compared to grocery stores, and cook for the entire week on a Saturday or a Sunday, store the food in the freezer, take out small portions each day, heat and eat.

And on days you feel like some jalebis, and live away from London, then take a tour of Southall. London or other cities in the UK are best explored and enjoyed on foot. Carry an umbrella UK's weather is as unpredictable as its national sport. When you do go for these walks in the lovely countryside or Piccadilly Circus (London) carry an umbrella! One minute there's sunshine, the next rain! And when it rains, it rains on and on.
Visa application
From March 2008 the immigration office changed the visa application process. Now there's a point system and those wanting to apply for student visa fall under the Tier 4 category. Now, the university that accepts your admission offers you a visa letter upon payment of the course fee. And only those universities that have been given the licence can issue a visa letter.

This helps in ruling out the possibility of students being duped by unaccredited colleges. Based on this letter and a bank statement the Embassy issues a visa. Along with this you need to give a general medical report from any of the recognised medical institutes in India and a chest x-ray for Tuberculosis.

No test is required for HIV. The visa for undergraduate students is three years with four months of extension after which the student has to return to India. In case of postgraduates, it is one year plus an extension of a few months. However, students can apply for the post-study work visa, which is for two years, towards the end of the degree. These are for the highly-skilled, such as lawyers, doctors and engineers.

For more information on visas, visit UK visas (https://www.gov.uk/apply-uk-visa) and ukba.homeoffice.gov.uk.

Paying course fee up-front
Now international students have to pay the first year fee if pursuing an undergraduate course and full fees for a postgraduate degree in order to receive an unconditional acceptance letter and the visa letter. And of course, students on fellowships and full scholarships do not have to pay any fees. This may not be fair as students might not have seen the university or even travelled to the UK.

Goggin agrees that while it is a risk, this ensures that there are fewer empty seats in a university. Students with offer letters from three universities decide only at the very last minute and in the process students in the waiting list suffer as by then admissions usually close. 'Thus, to avoid this situation, we have decided to ask students to pay up before they arrive in the UK.'

And in the event the student is disappointed with the university, he or she has the option of going to another university, provided the other university is willing to offer the student a place. In that case the fee will be transferred to the other university but the student will have to apply for a fresh visa, which he/she can do while being in the UK. Students can apply to the UK Border Agency for another visa. However, this is a huge risk, but then there are no returns without risks.
Careers360 is a complete careers magazine